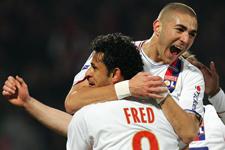 The seven year run without a win at Louis II is over, the least you can say is that Alain Perrin's men didn't use half measures . They quickly showed that their tactical and technical superiority would put paid to Monaco's hopes of continuing the run. Monopolizing the ball and imposing their game, the league leaders didn't have to go all out to change the course of history , they even only really played in the first half.
The second hal could even have been mistaken for a pre-season friendly, OL sitting on their lead and Monaco trying, without success, to better the image they have taken on over the last 8 games. Their bad run continues. Their chances of qualification for a continental competition are over. As for OL, everything is going well. A 9 point lead over Bordeaux, who play Strasbourg on Sunday, closes the gap on the 7th title in a row for Cris and his teammates ; they also managed to reassure themselves over their away form. Apart from their win at the Stade de France against Lille (1 – 0 on the 1st of March), they hadn't won away frm Gerland since the 24th of November and a 2-0 victory over Rennes. Another bad run was ended tonight in Monaco.
Postives : Alain Perrin was able to take off Keita, Toulalan & Benzema with the game against Sochaux in the Coupe de France on Tuesday in mind. Too much talent isn't a bad thing. The OL coach probably didn't expect as much from the game.

Even though they started the season, Monaco haven't had much say in the title race. Beaten four times out of four by the top two teams in the league, Ricardo's players have even allowed them to build up their goal difference. Thrashed 6-0 last month by Bordeaux, they once again opened the floodgates. At half time the games was already over as a competition thank to Kader Keita who profited from Muratori's errors and found himself one on one with Ruffier three times. After being played in by Benzema, he broke through the Monaco defence and rocketed in a powerful shot into the top corner (20th, 0 - 1) ; after a cross from Bodmer, his shot hit the post and fell back to Fred unmarked (35th, 0 - 2) ; after another pass from Mathieu Bodmer, he lobbed the Monaco keeper (38th, 0 – 3). Scorer of the 4th goal against Bordeaux last Sunday, the former Lille player is on an upward spiral !

Enthousiastic but lacking precision and dominated in all compartiments of the pitch, Monaco tried to reduce the score but Almiron headed over twice (29th & 42nd) then saw Källström stop a ball on the line (48th) ; Piquionne & Nene came up short against Grégory Coupet (41st) ; Nene (43th) & Gakpe (77th) failed to hit the target.

Lyon could have scored even more but after a Källström pass, Keita hit Ruffier's side netting (49e); and even more so after a one-two with Fred on the edge of the box, Karim Benzema went past the Monaco keeper but was caught after waiting to long to put the ball into the open goal (75th).

In any season, there are turning points, wins that are more important than others. If the win against Bordeaux, last Sunday, certinly fits into this category, the win against Monaco is a confirmation : OL are well ont their way.