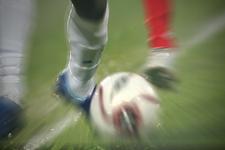 Against Monaco, OL will try to build on their success against Bordeaux. Monaco, a land where they have, just about, always gone home empty handed over the last 7 seasons…
Even if Alain Perrin has stated that they haven't reached to home stretch, it's not far off. Certainly OL will not have sewn up the title before the round 33 game as they did last season. But every point they take will bring them closer, we hope, to a 7th title. Especially as the coach pointed out in his press conference. «The league will be won away from home … We have 6 away games to play… ».

Away games? OL have had trouble bringing points home from their trips over the last few months, even though they won away to Lille… in Paris. « We need to be mentally strong alongside all the positive things we have on our side … ».And in Monaco, Cris and his partners will need all they can get. Monaco has not been a happy hunting ground for OL since the 2001-2002 season, they have notched up 6 defeats and 1 draw.

AS Monaco haven't been in particularly good form this season ,even though they still have a chance of gaining European qualification. There have been a lot of changes since Ricardo arrived without much result. « We have to be careful, they have quality players in all departments … ». Alain Perrin has heard it all before!

OL have had 3 good wins in a row in the league. They will have to do without Juninho and Govou on Saturday, as both are injured. « It's annoying. It will give some playing time to other squad players … ». Will Alain Perrin keep his formation with Benzema on the left and Fred in the middle ? He didn't answer the question, but repeated : « I take into consideration many factors before naming my starting line-up … ». Kader Keita should come in for Govou. It looks given that Bodmer and Toulalan will start in the midfield. One place remains available, Perrin will have to decide between Källström and Crosas. As for Boumsong, it looks like he will b on the bench again.

Against Monaco, Lyon wil want to build on their success against Bordeaux. « The least we want to do is keep the gap between us … ». Fabio Grosso states the objective. In order to not be waiting on Brdeaux's result against Strasbourg, the best thing to do would be to beat Monaco.