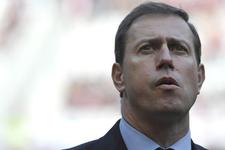 During his press conference Alain Perrin announced the combined absences of Juninho and Govou ahead of the trip to Monaco…
Alain, what points can you take out of the last week ?
« We've had a full week to prepare for the game against Monaco. The players have had the time to recuperate. Now we're ready for a run of 3 games in quick succession. Juninho unfortunately has a muscle tear he'll be out for 8 to 10 days and will miss the game against Monaco. Sidney is still in pain. We want to rest him so he'll miss the game as well. 2 important players out who play in the same department is a real shame. So knock on wood we won't have anymore surprises. On the other hand it'll give some of the players a chance».

How are you preparing for the trip to Monaco ?
« We had to win against Bordeaux and we did. If we want the title we'll have to wwin points away from home. 3 out of the next 4 games are on the road, without forgetting the game against PSG at Gerland. We know what we have to do It's away from home that we'll have to make the difference . We have to do better away from home, if not Bordeaux will be back. Monaco have a good team with quality players.They haven't had much success though. They'll want to win at home against us, our objective is to win even though we haven't managed to do that at the Louis II Stadium in a long time. Weill have to do everything we can to get a good result. The determination to win this 7th title has to be shown on the road ».

Are you in the home stretch ?
« Not yet. But it's an important period . Let's show what we can do, I want us to be regular in our performances and our results.The efforts neccessary on the road are in the head as well ».

With Juninho out will you change your tactics ?
« Not completely, even though I have a few ideas. After when I choose the players there are a number of factors that come in to play. If I put Karim on the left and Fred in the middle it's because they can play together well. I try and put out the best team possible in order to win the game . Against Manchester I thought that that solution wasn't the best, afterwards I know I can't ask anything and everything of my forwards. When they make their runs, they have to get back as well, then thhere is the risk of being caught out.We like to move forward quickly, sometimes we have to take less risks, go back through the midfield, play into feet.But then again there are the individualities that make up the group ».

How are Delgado, Crosas, Boumsong, Cris ?
« Césardidn't play as there are many players in his position. I preferred experience, but he's worked well over the week.He's ready.It's the same for Marc.I'm thinking about using him to replace Juninho. Jean-Alain ? He's in my mind as well. We aren't going to rest Cris. We considering all options.As far as Cris is concerned, we're keeping an eye on him as he could have a drop in his physical form. His role in the dressing room? His and Greg's return have been very important. They bring their professionalism to proceedings».

Are you preparing for Monaco & Sochaux at the same time ?
« There's not much time between the two, but we have to take each game as it comes. We'll see how things are after Monaco. We'll look at everyone's time on the field before deciding ».