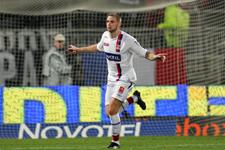 Reactions afetr the game between OL and Bordeaux.
Christophe Galtier :
Lyon and Bordeaux were both present for this game. When you have seen a good match , it's because of the two teams. It was a great match in it's intensity and in the play, it was a great show. It was an important game for Bordeaux, but capital for Lyon. OL won the game thanks to their qualities and the weaknesses. In the two days after the game against Manchester, the players were affected by all the criticism that came from the outside. As of yesterday we felt that the team was very determined. We tried our best to help the players recuperate on a physical and mental level by reassuring them after their performance against Manchester, by refocussing them on the objective of the 7th League title. As of Friday, the leaders and the older players had done the necessary work, that's very important in the dressing room.

Jean-Michel Aulas :
On Friday we had to let the squad know that the entire management team was behind the playing staff completely, the squad doesn't just have great qualities but that they can step up their game during big games. Football is a game, you can't always win and when you are up against a better team you're allowed to recognise it. You have to enjoy it but not get a big head. We have to be champions, that's the objective. We have 10 games left and they are all preliminary rounds for the Champions League. It's not over : we have to go to Monaco, Paris have to come here, we'll visit Valenciennes. It will be difficult, we haven't won yet … but we are very happy tonight.

Mathieu Bodmer :
It was a great match, everyone enjoyed it. Often games between the top 2 clubs are tight affairs, but tonight Bordeaux were in the game, just like us. We're happy to have taken the three points, it was important for us as we wanted to put a bit of distance between us and Bordeaux. We want to be French champions ; we have a 6 point lead, it's a buffer, but we don't want to stop there. There is still a number of games to go and we'll have to win against Monaco on Saturday.
Physically we are in good condition, tactically things are getting better. We also have a number of important players coming back from injury. Everyone is finding their form just before the final sprint. That is good news.
Of course, on a personal, level it's good to score, but the most important thing is to keep the run going. I wanted to play as many games as I could in midfield, and over the last 2 months things have gone well. I'm really happy about that.

Kader Keita :
Bordeaux came here to win but, thank God, we managed to play our game, play as usual and forget what happened in the Champions League. Today everyone played well and gave everything they had. As a team we were very good.
Scoring is great. I have to thank my teammates as they have always supported me. If I managed to score it's thanks to them. I want to dedicate my goal to the supporters, my family, to everyone. It's the teamwork that made everything possible.

Alain Perrin :
The team played beyod my hopes. I knew they would be motivated but I was worried abot the levels of fatigue after the game against Manchester. The players realised the importance of the game and played as they needed to. After the first 25 minutes, their levels dropped a little, and we idn't put the effort in. In the second half, the team showed a lot of solidarity and courage to assure the result.
A six point advantage is a necessity especially as we haven't done anything out of this world, we simply took 3 points from a home game. In order to win the title we'll have to take some points from our away games.

Grégory Coupet : It was an enjoyble game. Bordeaux keep the ball on the ground. I enjoyed the show. The game swang swiftly from one team to the other. It wasn't a physical or athletic game, it was very technical. Even if Wendel may have a bad injury it was a solid game played in a good spirit but was very technical.
At the moment we are defending well, as a team we are putting in a lot of work. The title is far from won. 6 points is a good lead. Now we have to play against our « bogey team », Monaco, where we always have problems winning. It would be good if we could go and win there this year.

Cris : On a personal level things went well. It was a tough game with a lot of duels. We started the game at a good level, defending well, which made the difference.
OL haven't won the title yet.There are still 10 games to go. We know it's going to be difficult against Monaco. We have to go to Marseille as well. These are big games and we have to be prepared.