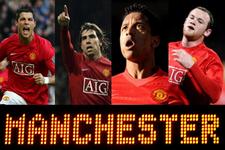 The sun is shining in Manchester... The local press are talking more about a possible record for MU than they are about OL..
The sun is shining in the North West of England. It doesn't entice you to wander round the streets of the city though. Its a long time since the splendour of the industrial age. There are, of course, stil some beautiful red brick buildings, most notably the Universities and some lovely hotels (Midland). Of course there is the cathedral. We cannot leave out The Old Wellington Inn, a traditional pub dating from the XVIth century. We also let ourselves wander into [IMG42943#L]Chinatown. A little bit further on and it's Pakistan, and India. The restaurants give off their odeurs of meat and spices... There are also still some gardens. But quite frankly nothing special , even when you take your time to have a look around. You also have to keep an eye on the traffic, if you don't look the right way you come face to face with a tram, a bus, a taxi...

The local press "the Manchester Evening News" does talk about the game but more specifically Manchester United. The journalists are most interested in what Sir Alex and Rio Ferdinand had to say during the press conference. Everyone is talking about the record of 10 important home wins in the Champions League held by Juventus Turin. Manchester could equal that record if they beat OL. A few lines about Benzema... and that's it. We really have the impression that for them the game is already over.

[IMG33287#R]The OL squad had a normal morning. Their walk before lunch. The siesta, their snack, the teamtalk and the departure for Old Trafford. The players who will not be on the teamsheet had a training session with Robert Duverne how was to meet up with his friend Philippe Saint-André in the afternoon. Then match time. We're dreaming of an upset, the greatest in OL's history. We can imagine "Greg" Coupet flying across his goal to stop everything, just like Yves Chauveau against Tottenham. We can see a winning freekick from Juninho, a goal from Benzema. We can see Cris keeping order in the OL box. And the smiles, the joy when the Italian Roberto Rossetti blows the final whistle. Old Trafford is the ideal spot for dreams to become reality.