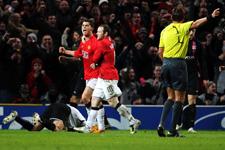 Tevez's goal at Gerland made the difference . Manchester « simply » managed to do what Lyon were incapable of in the return leg : score away from home. After a two legged match that was tight, Alain Perrin's men were knocked out of the Champions League at the same stage as last year.

The OL camp will certainly have regrets as Manchester were, during the 180 minutes, far from the invincible armarda that were expected, or the machine that was going to tear apart the L1 leaders . Before the return leg, Grégory Coupet had stated his fear of « being thrashed » just like Roma when they visited the « Theatre of Dreams » a year ago (7 – 1). He shouldn't have worried, OL lost the game by the smallest of margins (1 – 0), even if Rooney could have extended the score at the end of the game (76th & 87th).

OL knew they had the arms to score at least one goal at Old Trafford. Karim Benzema, repositioned in the centre of the attack, was never put into a goalscoring condition, Sidney Govou didn't stop helping his defence thus weakening his attacking potential, apart from two long range freekicks (50th & 86th), Juninho never seemed capable of making the difference.
Alain Perrin started the game without Bodmer and Fred prefering Källström and Ben Arfa. Ben Arfa's task was to get forward quickly and use his speed to help out their attacks. Apart from a long range shot off target (8th minute), he never really had the opportunity to do it, Lyon were incapable, for over an hour, to keep the ball and get out of their own half . Without the ball, (37% possession in the first half), the game is no fun!

Their continually technical errors and a block that was far too defensive kept the French champions close to their own goal. The only problem, against Rooney, Ronaldo and Nani, preferred to Tevez, was holding on, which in turn was an olympian task . Just before half time, OL's defence were unable to clear a cross from Brown which Ronaldo picked up close in and finished off with a left foot shot past Grégory Coupet (42nd). Without being against the run of play the goal flattered MU who up until then hadn't really threatened. Ronaldo turned past Grosso but was stopped by Cris (10th) ; Fletcher hit over the bar (15th).

OL were not any better. In a game bereft of clear chances, Källström had worried Van der Sar with a powerful effort (29th). Coming closer, after a one-two with Benzema, Kader Keita hit the post (74th).

Obviously, there is no shame in being eliminated by Manchester United in the last 16 of the Champions League. Nevertheless, this elimination leaves a bad taste in the mouth and a sense of impotence. Manchester kept a strong hold on the ball , leaving no room for manouever to a young OL side that most certainly learnt a lot from their english lesson.