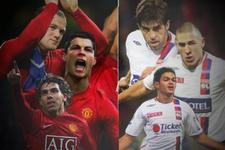 What better place than Old Trafford to make an upset? What better place than this Theatre of Dreams to make dreams become reality… and continue the adventure…
The first leg showed OL's good side. The result is without doubt in favour of Manchester United, who when they step out at home on Tuesday are qualified. To get into the quarter final, there are a number of scenarios that the 6 times French champions could hope for. A penalty shootout after a 1 - 1 draw, any draw other than a 0 - 0 or 1 – 1 scoreline, an instant success. There are a number of ways through for them.

Manchester have options to keep those doors closed. The first leg result for a start, their individual and collective talent, their football, a world class squad, their big match experience, their desire and the ressources they have to go on and winthe competition. Without forgetting their mythical stadium where they have not lost in the Champions League for 13 games since February 2005.

For the first leg, Alain Perrin had a plan to try and block their attacking movements. OL managed to keep that block in place until 3 minutes from the end. Carried by the desire, the duty, their desire to go beyond themselves, their respect of the instructions and the talent of a Coupet, a Benzema or the hardwork of Clerc, Toulalan, Govou… this OL squad has shown that they are capable of standing up to the best teams in Europe.

[IMG41455#R]A few hours before the return leg, 2 or 3 questions subsist. Could this OL team repeat this type of performance, especially at Old Trafford? Can they play the same way without Réveillère who is suspended. Will qualification come from audacity or caution? Who will replace Clerc on the right wing? Benzema on the left and Fred in the middle ? Bodmer in the starting line-up alongside Toulalan, Juninho and Källström? Where do the hopes rest, from the captain Juninho. He can change a game. As Gérard Houllier often repeated, this type of game is made for top players. It's up to him now.

Another question has to be asked. How will Manchester play? With caution like at the start of the first leg... or all out attack like the end of that game with all their arms? It would be a surprise if Christiano Ronaldo wasn't just as brilliant. There are still some defensive problems as were spotted in the first leg …

OL are not favourites, but they have 90 minutes, maybe even 120, to go down in history as a winning team at Old Trafford. The last team to do it in Europe? AC Milan in February 2005 at the same stage of the competition. Paolo Maldini et al, after a 1 – 0 win, went on to reach the final. A score of 1 - 0 would change dreams to reality!