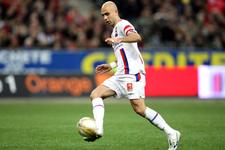 Reactions after the game between Lille and OL.
Claude Puel (speaking to Canal +) : We played well in the second half, creating a lot of chances but not finishing any. A draw would have been a fair result when you look at how the game went in the 2nd half. Like many teams we are looking at trying to stay up but have other ambitions if we manage to put in some good performances like we did in tonight's second half.

Grégory Coupet (speaking to Canal +) : The organisation around the game was excellent. All that was missing was a few more goals for the spectators but it was a tight affair. Lille were difficult to play against. We have a big week coming up, we'll try and get another good result. We will try and keep it tight against Manchester. We have guys up front who are more than capable of surprising them but we have to be strong in defence. For once I'd quite like a 2 – 2 or a 3 – 3... but a 1 – 0 win would be « brilliant ».

Jean-Michel Aulas : There was the context of the points taken in the league, now we are playing every game in order to win an historic 7th league title, nobody has ever done that. There was also the particular context surrounding the game: 80 000 people, a record. It was a party and we saw a very good OL side. To win when it's needed three days before a trip to Manchester, is very impressive. We had to play the game to the best of our abilities whilst still holding some back and avoiding injury. So really it's a triple victory, we won, no-one is injured and we now have 6 points on Bordeaux.
(about the game against Manchester)We have to be worried about it even though we are on a good run. We have to be positive but wary. Tonight our subs were all worldbeaters. To have a good bench technically, the players have to be good mentally. The fact that our players, all of them internationals, sit on the bench without making a fuss, is a great thing. It's with this enthousiasm that we will go on to do great things.

Christophe Galtier : We wanted to put in a good performance, a draw would have been a good result, a win is even better. We stayed focused on the game against Lille before thinking about Manchester. That's why the team looked good and the players motivated. We know that if we want to take a seventh title, we would have to win seven games. Tonight we only have 6 more to win.
Cris ? He played well. Apart from his performance, you have to look at everything else he brings to the squad : his discipline, his influence in the dressing room. Now we have to see how he recuperates from this game in order to be ready for a game on Tuesday that will be at a different level physically. We will be having a word with him. And don't forget Jean-Alain (Boumsong). We have three good centre-halves, it's a plus point for a team. Everyone was waiting or Cris to come back, but we all know that you do not get back to your best form after one game. We have not yet decided on the starting line-up for the game against Manchester.

Jérémy Toulalan : We knew that we were at the start of a big week and that Lille would cause us a lot of problems. We didn't play to well tonight but defended well in the second half. We go back home with the three points that we needed. Now our thoughts can turn to Manchester. This game is a bonus for us but we are going there with an objective : qualification. We know that we will suffer, especially in the first quarter of an hour. We will have to be strong defensively, but we can make a difference up front. We will be calm. I think that we can get something out of this game.

François Clerc : We were expecting a tight game and knew that Lillle were a difficult team to play against, that they played high up the field and wouldn't let anything go. We were lucky enough to open the score and we then managed to hold on. It has been a while since we won away from home. This puts pressure on Bordeaux, which is good for us.

Against Manchester, the mistake would be to play the game in our heads before the fact. We have everything to win. We are not favourites but as we saw in the first leg we can cause them problems. We have to stay in this frame of mind, give our all, let nothing go, we must be at 150%, even if we finish up wrecked. We believe!

Cris :We played well, especially defensively. On a personal level, I felt fine. I'm happy to have finally gotten back out onto the field. Before the game I concentrated a lot mentally. After 6 months out, it was difficult to find my rhythm. The match against Manchester, I'm ready. I managed 90 minutes today and everything was fine. It's up to the coach now, but whoever he puts out it will be the right choice.