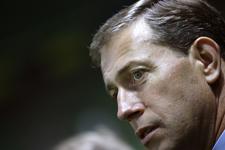 Speaking with the Press, Alain Perrin talked of Lille… Manchester… He also answered questions about Ben Arfa… Cris… Grosso…
Alain, Lille are just the first opponents of an important run of games?

« Let's just take each game as it comes . We must stay focused on Lille. It's an exceptional event to play at the Stade de France. It's a lovely stadium, but we have, first and foremost, a result to grind out. Every team puts in that extra effort when they play against us. Lille are a difficult team to play against. They never give up, are well positioned on the pitch, close you down constantly, are very good defensively and are at peak fitness right now. At Gerland they gave us a hard game, alongside Nancy they are the most difficult team to play against. We are ready for the challenge »

What team wil you be putting out against Lille ?

«The most importnt thing to take into condsideration is the form of the players . After that everything else fits into place. Obviously if we had more of an advance in the League I would have acted differently. How we play against Lille will help me decide for the game against Manchester. Cris is fit. I'll be having a word with him, he's back in the group. We'll see how it goes for Jean-Alain Boumsong. As for Fabio Grosso, we're not going to take any risks, he won't play against Lille even if he looks ready. Do we have a full back problem before the game against Manchester ? We can put Boumsong or Källström at left back and Toulalanat right back if need be. »

Could you tell us a bit more about Cris ?

« We'll see if he plays against Lille. It's clear though that if he doesn't play on Saturday he won't play on Tuesday. It's important for me to have the players opinion in order to make the right choice. Cris knows that he is just on his way back at the moment. The centre of defence against Manchester ? We'll see. I'm not going to decide this far in advance. I'll say it again, the match against Lille will help me out. Those who play in the centre of defence against Lille won't neccessarily start at Old Trafford »

Keita ? Juninho ? Ben Arfa ?

"Kader ? He hasn't played as well as we had expected up until now. He had a good ANC. Hopefully that will help him to find his form. He's working hard and there are signs that he is progressing. Juninho ? He feels like he can play two games in a row. Hatem ? He's training hard just like all the other squad players at the moment. He's working his socks off to get back into the first team. Nobody is giving up and that is very important. Hatem remains a substitute for the moment, but nothing is set in stone. I said that last week. It's not really me that picks the team, the players pick themselves . Nothing is programmed ahead of time. My real problem is when everyone is playing to the best of their abilities at the same time. If a player let's his form drop, he puts himself out of the running. Gong back to the choices I make, the game's context is very important as well, the opponent and how the 2 teams compare. Football is a team game, so obviously certain players get on better and play together better than others».

Getting back to Lille, is this an ideal preparation game before the trip to Manchester ?

« The worst part is the closeness of the two games. Playing at 17h00 is already a plus point as far as recuperation goes. In no way, do I consider the Lille game to be a preparation for the match against Manchester. We need all the points we can get in the League. The title will be won with the points taken away from home. Looking at it like that makes it a good test ».