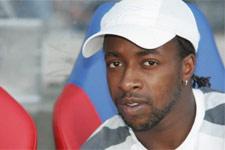 Sidney Govou answered questions from the Press after training. Here are 3 of them…
How is the group feeling before the upcoming 3 matches ?
« Great. We've enjoyed a full week of training where we were able to put in a lot of work. This series of games is exciting. We remain confident ».

Lille at the Stade de France ?
«It's an interesting context for both teams. It's a bit like an international game when you play at the Stade de France especially when you see the number of international players in the teams. It's good, it will put us into the right frame of mind before the game against Manchester. Lille will be away from home as well. We cannot take things easy as Bordeaux are just behind us. We have to do everything we can to win the game ».

Is it difficult to compare Lille and MU ?
« Difficult? Yes and no. We will have to have the same mentality for both games. Lille are difficult to play against. They are at their peak fitness wise, they are not scared of a combat and wear their opponents down».