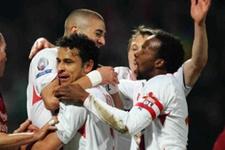 Reactions after OL's 2 - 0 victory against Metz
Christophe Galtier : It was a strange match. Our group was quite tired. We marked our return to the league with a quick goal, afterwards we had to put in a lot of effort to stay in the game. It's a good result for us as we need to win all our home games.
I'm convinced that the duo Fred-Benzema will work. Fred is a very good player, a real goalscorer. Karim Benzema has accepted, with a lot of respect, to play a little bit more to the left. It gives us more options. I'm happy for Fred and that it was Karim who played him in for the goal.

Jean-Alain Boumsong : We needed to take the points against Metz especially after the game against Le Mans. We are still on target for our 7th title. It's not going to be easy and we will have to keep ourselves in the same mind set to achieve what we want.
We were not perfect this evening, we left them a bit too much space during the game. It is never easy to play against teams that have nothing to lose but we did not underestimate them this evening. Now we have to win some points away from home. Our next game won't be easy, Lille, at the Stade de France …

Juninho : I needed a rest. Since I came back from injury, I have played 3 games in a row, including Manchester, I wasn't fresh enough to start tonight's game. We had to get this result against Metz, we have to take all he points from our home games if we want to win the league. We have a difficult, but pleasurable, away game at the Stade de France to Lille next week. We have to keep up our run of form as we will have a very decisive week after that, with games against Manchester and Bordeaux.

Mathieu Bodmer : I'm lucky enough to be on a run of games in midfield, my rhythm is getting better but I still need a bit more time to get back to my best form. I'm getting used to things, slowly but surely. Greg Coupet had a great match tonight making some great saves. A good win for us, especially as we did not concede any goals. It's been a while since we won away from home, I hope we can do that against Lille, especially as it's at a neutral ground.

Fred : It was a great night for me. We needed to take the 3 points and on a personal note for me to score. So, yes, a good night for me. I've been working really hard in training recently, so this has rewarded my efforts. Last week I laid on two goals, tonight I scored two … I have a good understanding with Karim on the field, we compliment each other and tonight it worked rather well. It gives the coach a few more options. Tonight it's Karim who set the goal up for me, he's a friend and I can't but thank him for it. My objectives are to continue working hard and to score 10 goals by the end of the season and the most important : not get injured.

Grégory Coupet : I'm happy with my performance tonight. It's all about work and the discipline is back now alongside the technical qualities which didn't go away. We try and talk to each other as much as we can on the pitch. Watching Manchester, we saw a style of defence that could be copied. When we talk about defence it's not just about the four who play at the back and the goalkeeper but a collective attitude that we do not have enough of at the moment.
I think that we are lacking some mental strength which makes it difficult for us to keep up our efforts. This collective discipline is important for us for all our efforts.

Jean-Michel Aulas : It's been a good week for us all things considered, as even though it will be difficult we still have our chance against Manchester. We will have to play differently in order to score. Tonight, without it being a great game we managed to take all 3 points thanks to Fred's goals and a great performance from Greg Coupet. These three points will put pressure on Bordeaux, who didn't manage to qualify in the UEFA Cup and who will play against us fresh while we will have played against Manchester three days beforehand.
Bordeaux, now that they do not have the distraction of the UEFA Cup, have a good chance of becoming champions. It doesn't bother me that Bordeaux are now favourite, on the contrary, I thinks it's a good thing.
Sir Alex Ferguson's interest in Karim Benzema ? It's puzzling. If I'd made one tenth of the remarks, he has made, about a Marseille player Nasri or Ribéry for example, when we were going to be playing them 10 days later, the powers that be would have been outraged. UEFA will have to look into this I think. It's a waste of his time though as Karim and his father are good, honest people. Karim is a very good player, a future great. The trophy he recieved today is just one of many that will be coming his way. It's a good start for him, but I told him he should be looking at the European player of the year trophy. His father has been keeping a close eye on him for a long time. I want to build something with them, the future of Olympique Lyonnais where we will use Karim's great abilities but also allow him to really show what he can do. He can still progress dramatically. I think we have on our hands one of the greatest French players ever. We are looking at a contract extension, they have received our proposition and I think that things will have been worked out by next week.