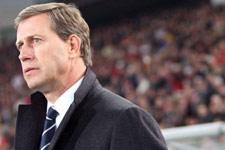 Alain Perrin looks back on the game against Manchester ; looks forward to the reception of Metz ; he explains his decisions…
24 hours after the game Alain, what is your analysis of the match against MU ?
« Of course there are some regrets as we could have kept a clean sheet. I would have preferred a 0 - 0 rather than 1 each. Manchester are through for the moment. It's not a good result for us and is quite disappointing when you see the performance put in by the team. It's really frustrating. The team played at their level on Wedneday night, not above it. Playing Manchester gave the team more solidarity. Don't forget that some players are still suffering the consequences of injuries picked up in previous games. Balance ? It's all about the game ; a good balance with a more defensive orientation. It's not how we play in the League. I'd go as far as saying it's easier to organise the team in this competition ».

Are you already thinking about the return game ?
«No. We have two games to play beforehand. Réveillère's suspension ? It's annoying obviously. We only have 2 full backs available now».

Why did you start Ben Arfa on the bench ?
«He lacks consistency at the moment both in his teamwork and individual performances. It's in no way a question of his ability. He is not as efficient, he's letting himself be dragged all over the pitch and it's not good for the team. He didn't start because of his form at the moment not because of his defensive abilities. But that can change quickly, if you remember he played against Glasgow Rangers, against Stuttgart… »

Metz ?
« Won't make it easy for us. It's a big game for them. They have nothing to lose. They will definitely up their game as there is no pressure on them and the players will want to show what they can do. We want to start winning again at home. We will have to be careful that the players don't relax too much after Wednesday's game and we have to keep the same mentality as we showed against MU. Fabio Grosso took a knock on the knee. We'll see how he comes along ».

Are you going to make any changes ?
«I may bring on some fresh legs. There is competition in this squad. Our philosophy will be different. Cris ? He's ready, but I haven't decided if he will play or not. The question is : do we get him back playing now or a bit later. If it's later, his participation in the game against Manchester could be compromised. There are plus points and negative points. There are consequences as well, most notably for the player who is replaced, rested ».

How do you feel about having Bordeaux breathing down your neck ?
« Bordeaux are only one point behind. Bordeaux have a great team, but we're still in front. The outcome is down to us and doesn't depend on how Bordeaux's run of results goes. We will worry about us and nobody else.