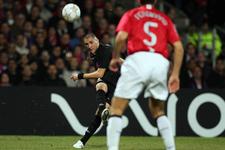 It was the 87th minute only 3 to go. The exploit was so close to coming off … It now looks to be a very difficult task. As is often the case, it came from nothing : a ball which bounced off Fred and as if by magic dropped directly to Tevez unmarked at the back post. OL are maybe not mentally strong enough at the moment to resist the pressure put on them by the side from Manchester who themselves were scared and up until the last 3 minutes thought they had fallen into the trap. Instead of a miserable and poor OL team, Manchester United had to face up to a tema playing at it's top, well disciplined, who believed for more than half an hour that they would be crossing the Channel in two weeks time with a significant advantage.

Obviously the chances of qualification have not disappeared, but the odds lengthened as Tevez put the ball past Grégory Coupet from close range. A very important goal, one which means that Juninho et al will have to create an upset at Old Trafford, on March the 4th . OL can't say they were not forewarned : two years after almost causing an upset against AC Milan, they once again felt the disappointment of conceding in the dying moments of the game. It is maybe unfair, Manchester only rarely worrying Grégory Coupet, but scoring when it is most necessary is the mark of a great team. Ever since their Champions League final victory in 1999, we know that the Red Devils never give up. They proved that once again this evening.

Statistically speaking, Cristiano Ronaldo and his teammates, leave the Rhône in a more favourable position than OL. They may have regrets but this performance must surely give OL's morale a huge boost. Throughout the entire game OL were more than a match for Manchester and their brilliance, Lyon were suppposed to be the stepping stone to greater things for them. Defensively, OL more than snuffed out the famous Manchester attacking line. OL almost became the 4th team all season to not have conceded a goal against MU, they would have been the 1st to do that in this year's Champion's League.

Grégory Coupet kept them out continually winning his one on one against Rooney (25th minute) then pushing away a Ronaldo freekick (44th). And especially saving a final free kick from the Portuguese international. Generally, Lyon managed to deal quite well with the Red Devils, Alain Perrin's decision to start François Clerc on the right wing paid off nicely, Cristiano Ronaldo didn't really worry Fabio Grosso, and was even less of a defensive threat to the Italian international whose cross caused the first of the worries for the MU defence (7th minute). To stop his team pushing forward too much, Alex Ferguson decided to reinforce his midfield, Anderson stepping in to the detriment of Tevez. The clash of the 2 tactical styles mostly put into place to stop the opposition from attacking didn't lend to an attractive offensive game. The opening moments of the game were quiet and it took a change of wing from Cristiano Ronaldo before we saw Sidney Govou get down the line often and get the better of Brown, breaking through the midfield block. From a freekick won by Lyon's number 14, Juninho worried Van der Sar (20th). In the space of 5 minutes, OL stepped up their attacks. From an Anthony Réveillère cross, Rio Ferdinand almost put the ball past his own keeper (23rd). And from a cut back by François Clerc, Karim Benzema just lifted his shot a bit too high (26th).

In a game without too many goal scoring opportunities, the English should have heeded the warning given them by Lyon's top scorer. His second effort more than made up for the first. On the edge of the box, he beat the Manchester defence and hit a magnificent left footed shot into the back of the net (55th). OL could have strengthened their advantage but Juninho's long range freekick grazed the post (68th) and Hatem Ben Arfa fired over (86th). Instead, it was Tevez who popped up at the end of regular time (87th) to level the tie.

Two upsets were needed to get past the obstacle that is Manchester United. Now only one is needed but we cannot say that that makes it any easier. Only the context has changed : Benzema and his team mates will have to score at least once in the « Theatre of Dreams ». This season OL have won two of their three away games in the Champion's League. After the performance they put on tonight, why not?