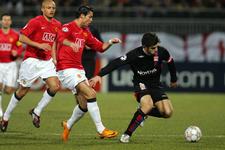 Reactions after the draw (1 - 1) between OL and Manchester.
Jean- Alain Boumsong : Looking at how the game went, the result is not satisfactory. We wanted to win. A draw doesn't make things easy for us. Now we have to try and put in a good performance over there. We will have to play with the same determination we showed this evening. We know it is going to be difficult. At home, they will be more agressive. We will all have to pull in the same direction and score, we will have to really play as a team, give everything we have so that we can be proud of ourselves once the tie is over. We'll have to continue the good things shown this evening and put right what went wrong. We have to be optimistic. Manchester are one of the best teams in the world, but our objective has to be the qualifiction. We haven't gotten this far just to play the extras, we want to get through to the next round.

Christophe Galtier : We're both reassured by the team spirit, the desire shown by the squad and disappointed. The scoreline has left us with a bad taste in the mouth, but Lyon are not dead and buried. We're still in this competition. We need to remember that we went to Stuttgart and Glasgow and came back with victories. There is still 90 minutes to be played. Manchester won't be overconfident. (…) We were well organised for the most part this evening, the wing players linked up well. For long periods we managed to contain Ronaldo, Giggs and Nani. We played with a winning mentality. The effort put in by the team to stop Manchester from playing paid off. Greg (Coupet) was decisive as well. François Clerc came off as he was suffering from cramp, he'd been asking to come off for 10 minutes.

Hatem Ben Arfa : Of course we are frustrated as we were winning 1 - 0 with only a few minutes to go. The game was well balanced. In this type of match, all the players give that little bit more. Motivation is not a problem and it helped the group be stronger. The goal could have been avoided but now we have to concentrate on the return leg. It's still 50 – 50. We have to go to Manchester without any complexes.

Kim Källström : Even if the equaliser is difficult to accept, it's a logical result. We are frustrated as we were winning right up to the 87th minute but we are also proud of our performance. We're still in with a chance of qualification, even if it is going to be difficult. Before the game we all said that we were going to show our best side and everyone took their responsabilities. We all knew that our performances at the moment, especially against Le Mans, were not good enough. We know that we are a better team than that. Tonight was a good chance to prove that and we did. The manner in which we played was interesting, we won't forget that. We will have to show the same style against Metz on Saturday, a match we really have to win.

Anthony Réveillère : Recently, we played, we attacked but we did not defend, we weren't disciplined enough. We had to get back to basics. We didn't have any choice tonight. If we hadn't put in the efforts we could have been « hammered ». We went back to what we knew we could do : we defended well and formed a solid block. They didn't score from open play but from a set piece where we forgot to mark, it's a shame. The goal puts a bit more pressure on us but we know we are more than capable of standing up for ourselves in this type of game. Nothing is impossible. Maybe we needed a good game to get us back in gear. It would be good if it could get us back on track in the League and the Champions League.

François Clerc : I didn't expect to be starting the game even if I have already played in this position. The objective was to defend well, to be in place as we knew that that was one of our problems in recent weeks. We played well, it's been a while since we played like that. Unfortunately they scored right at the death but we have every reason to be optimistic. We saw some good points, if we keep the team spirit the same whether it be in the League or the Champions League, we can still believe. With Sidney (Govou) we went back and forward as they are very difficult to stop. With 20 minutes to go, the legs were feeling really heavy, I felt it was better to let someone on who was feeling fresh. We have to believe, we have everything to win. We're going to Old Trafford to qualify.

Fabio Grosso : It's really disappointing, we put in a great match, against a magnificent team, one of the best in Europe. 1 each is not a good result, but qualification is still a possibility. Returning with a 2-2 draw or a victory is not impossible. We have our arguments to put them under pressure. OL is still there.

Jérémy Toulalan : We knew that motivation would not be a problem for this match. What's important now is to recuperate before the League game against Metz and to play it with the same desire that we showed tonight. Tonight we rediscovered our virtues, we must not forget them. We would have preferred to win but we were under pressure at the end. The equaliser is not illogical but when you look at the effort we put in, it's a shame. A victory would have done us a lot of good but we rediscovered certain things tonight, anything is now possible.

Juninho : We wanted to win but Manchester wouldn't let go. It was a very good game with a lot of desire on both sides. We were a bit surprised as in all the videos we had seen of them they played in a 4 – 4 – 2 formation. I was obliged to play a bit further up the field, it's not what I prefer. It shows the respect they had for us. Unfortunately we conceded right at the end. Manchester are still favourites but, last year, we were against Roma and it was they that went through. We will try to do the same this year.

Alain Perrin : Obviously were are disappointed : it's not everyday that we feel that we can beat Manchester. The draw puts us in the position of likely elimination but also puts them in a tricky spot as well. If they feel they have done all they needed to in order to qualify, that could make them complacent and we could surprise them at Old Trafford. 1 - 0, for example. We would only need to score in the dying moments. Tonight, we showed a lot of concentration, discipline. We managed to cut them off, deprive them of real opportunities and managed to support Karim (Benzema) as well.

Karim Benzema : There's a mix of disappointment and satisfaction. We played really well, managed to score first and then held on well. It's frustrating. The goal really hurt us. We still have all our chances going in to the return leg. We went to Glasgow and won. We will go to England with the same intentions.