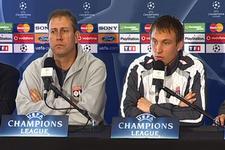 Alain Perrin
How are you dealing with the pressure that comes with this game?
The pressure comes from the stature of the team you are facing. In a game with automatic elimination the objective is obviously to qualify for the quarter finals. Manchester United are a huge team. We are very concentrated on the match. We want to give our supporters something to cheer about, to put on a performance, for it to be a great show. Everybody in the squad is serene, we are confident in our abilities.

Are you happy with your role as underdog?
It's true we are the underdogs. It's drawing us together, we will be more combative against our opponents. But that doesn't solve the problems on the pitch, it's not going to help us when Ronaldo, Nani or Rooney start dribbling past us.

Would a 0 - 0 draw be considered as a good result?
Well it wouldn't be a bad result. We'd still be in with a chance in the 2nd leg. It's a match that will last 180 minutes, maybe more. We cannot throw away the game in the 1st leg. We will need to be concentrated and vigilant right from the kick-off. We know all about the importance of away goals. To not concede at Gerland would be a good result all round.

[IMG42930#R]Does Manchester's attacking quartet (Giggs, Ronaldo, Tevez, Rooney) have you worried?
Manchester rested a number of players against Arsenal in the Cup. So I think we will see them lining up with Rooney, Ronaldo, Tevez & Giggs up front. The game against Arsenal also showed that the squad players at Manchester are pretty good as well. Manchester play total football, they attack in numbers, with their positioning and their work rate they put a lot of pressure on their opponents. But they can leave themselves open as well. We need to find the right balance : we must be able to resist and put them under pressure. The best defence must be able to attack as well. We have players with a lot of experience, international players who have proved in the past their ability to stand up and be counted in big games.

How can you surprise Manchester?
They are a team that likes to impose their style of play on the game and to dominate. We need to get into them right from the off. This season they have been in difficulty against Manchester City and Tottenham. These teams are in no way better than us, it's up to us to be well organised enough to put them in danger. We also have dangerous players up front, Ben Arfa, Benzema and Juninho are capable of making the difference.


---
[IMG42929#L]Kim Källström :
What are OL mising at the moment?
These last few weeks we haven't really shown what we are capable of. We've won a lot of games at home but away from Gerland we haven't been good enough to beat our opponents. In the league, it's worrying but tomorrow night is a totally different competition. The team is ready. After the games against Stuttgart and Glasgow Rangers, we know what is needed of us to get good results in the Champions League. We, the players, we need to assume our responsabilities.

Does the underdog tag change anything? Does it give you an advantage?
Going into this game as the underdog is a good thing for us. Last season, when we were considered favourites,didn't go too well. We'll go into the game with a different attitude this year. We have a number of new players and a new coaching staff. We know we have nothing to lose against Manchester who are obviously favourites. In games with automatic elimination you really have to be careful not to commit any mistakes as they are nearly always fatal.

What are Manchester United's main strengths and weaknesses?
Manchester have a lot of players who are technically gifted, of a very high level and who know how to get past you. We will have to be careful, defend well and keep things tight between our lines. They are a team that loves attacking. It's up to us to put them on the backfoot. They don't like that. In order to beat them we will have to be on top of our game.

The coach says that a 0 - 0 draw would be a good result. It's not in your nature to play like that is it?
It depends on how the match goes. 0-0 can be a good or a bad result. We know that our strengths are mostly offensive, so we will try to attack. We're not going to sit back to protect a 0-0 scoreline. We will attack as that is what we are about.