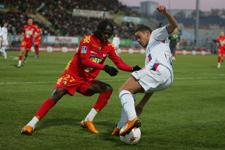 Reactions from the Lyon sqaud after the defeat to Le Mans.
Sidney Govou (interviewed by Canal +): We are disappointed as we could have gotten a draw. The defeat came from a ball lost in the midfield. It's a shame as we'd put in a lot of effort. We hope that our combativity will help us out on Wednesday (against Manchester United). At the moment we are having difficulties playing away from home but we haven't given up.

Christophe Galtier : It was a game of two halfs : in the first, we didn't create many chances, were quite poor in the last third of the field, but we were well in place, the players made a lot of efforts to get back in place when we didn't have the ball, there was a lot of solidarity ; in the second, it was more worrying : mentally, we let go too quickly, there was no cohesion and the solidarity had just disappeared. A lot of players let their heads drop far to quickly. A club that is 6 times French champions cannot behave like that. For a while now we have been poor mentally, we try to rely on individualities too much. Tonight we were well and truly beaten. The score was only 1 – 0 ; but tonight OL did not deserve a win or a draw. We had no answer to the physical or mental battle. It's worrying as it's not the first time it has happened since the winter break. If we cannot respond to the challenge put up by Le Mans and if the team spirit does not get better we will certainly finish the season very disappointed.
At no moment tonight did we look like scoring. We are not blaming the strikers as it is a team problem that we need to sort out as quickly as possible. We can only do that if everybody pulls in the same direction. The team will only be strong if they play as a team.

Kader Keita : We tried to impose our game on the match. We tried to carve out chances but didn't manage to finish them off. Le Man were more ready than we were. We'll look at the game, ask the questions that need to be answered and keep working. We lost but that does not mean that we will let our head's drop against Manchester. It's not easy for us at the moment as all the teams we face are more than ready for the games. Personally, I was happy to be back with my friends and to try and help my teammates.

Hatem Ben Arfa : We're upset as we wanted to win. We wanted revenge after the defeat in the Coupe de la Ligue. Now we have to concentrate on the game against Manchester. If we take a long look at ourselves, we can put in a good performance on Wednesday. We need to stay confident and up our level of play.

Jean-Alain Boumsong : When you play for OL, defeat is always disappointing. We cannot let this defeat get to us though. We need to learn what we can from it and turn things around straight away. There are days like that. As of tomorrow, we will have to forget the disappointment and get back to work.