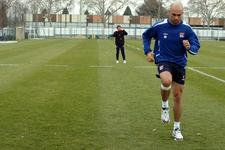 A fun session despite the severe cold with Cris in great form. He admits that he his missing a yard or two of pace in order to play without a worry…
«I'm getting there. I've had a good week's training with the squad. I'll have a word with the coach to see if I will be playing with the CFA on Sunday. I really want to be in the group for the game against Metz next week. I still need to work on my speed a bit so I won't have any worries facing up to my opponents. Speed is an important part of my game and in my post. It's normal that I have to work on it after such a long lay off, I need to be playing as well. I'm also working on Cybex indoors».

On this freezing Friday,where "the footballs weigh a ton", Cris took part in the last session before the game against Le Mans. He gave his all in every little tournament that the coaches came up with, whether he had to use his head or his feet. Tournaments that none of the 3 teams playing wanted to lose. Fantastic competitive spirit from all those involved.

After this short session, the majority of the squad moved into the warmth of the weight training room where they went through some stretching. Cris, took part in a session of volleys, against Vercoutre and Roux, alongside Govou, Benzema, Toulalan, Beynié and Sonny Anderson. His good humour was contagious. Scoring a fantastic goal, he celebrated it with style, just like a school kid with his friends. Cris more than ever nearer to his return. It's official, he will play with the CFA on Sunday against Raon l'Etape.