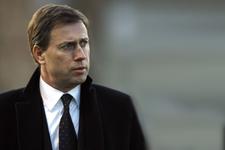 Traditional press conference for Alain Perrin 48 hours before the game against Le Mans... An important fixture before Manchester United arrive in town…
Alain, how are you preparing the 2 upcoming games?
« First off we have Le Mans. We are working towards this match. The league remains our prority. We mustn't let the Champions League take over our minds as was the case before the match against the Glasgow Rangers. We lost against Caen. We must do our job against Le Mans. I have to adapt to certain things. Some players need match time while others need to rest and we need a result from this game. Karim Benzema ? He is on my mind but he is a bit tired though».

Will you be using the Coupe de la Ligue game as a reference?
«We need to have a different attitude. In the Coupe de la Ligue, they pushed us around. We need to show our real capabilities in this race for points that we a running against those chasing us. It will be the best possible way to prepare for the game against Manchester ».

How can you stamp out what has been going wrong recently ?
« We have to work on the little things especially between our different lines. In training we have been working on the basics so they don't go wrong. Against Sochaux we gave ourselves no room to play in, that's what caused us problems. The centre backs? They need to work with each other, communicate and that's normal as they haven't played together very much ».

How can you start winning again away from home ?
« We have to play with more conviction and positive attitude. Our opponents want to take points from us. We've been putting too much faith in our individual qualities and not enough in fighting for the win ».

[IMG42896#R]A word on Manchester?
« I went to see them play in the derby. It just proves that even the best teams have weaknesses, it can happen to anybody. But they are more than capable of reacting quickly. My starting line-up? Listen, I haven't even decided on the one against Le Mans! »

How are Cris, Juninho, Keita?
«Cris is getting there. He is on the finishing straight of his recuperation, without being at 100% yet. At his post it is difficult to play under those circumstances. He may play for the CFA this weekend. Juninho? He needs to be playing. He could play as he did against Sochaux. Keita? He's fine. He has recuperated after all the changes he's been through in the last few weeks ».