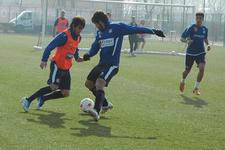 This morning, the Lyon squad started off the training session with two laps of the pitch before starting their warm up phase.

After a series of workshops on passing, the outfield players concentrated an attacking workshop followed by some shooting work while the goalkeepers had a special workshop concoted by Joël Bats.

The group was then divided into four teams who played out small games on a shortened pitch 4 against 4 and 5 against 5.

After a game on a half pitch, they finished with a session of free kicks.

On a bright note Juninho trained normally. Kader Keita finally returned to Tola Vologe but did not take part in the session with his team mates.