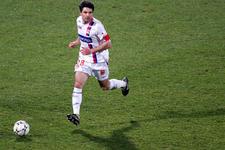 Tell us about the long training sessions you're having at the moment. What are you working on?
The last few weeks some of us have played a lot of games. This week is a bit more calm so we will be able to put in a lot of work. It helps us refind our automatisms, with communication and just to understand each other a bit better.

Three days before the trip to Le Mans, and one week before the match against Manchester United. Which game is in everybodies mind?
We take each game as it comes. This weekend priority goes to the League. After all we don't have such a lead as we have had in other seasons. We have to remain focused on this game so that we can bring the three points home and right now we are. There will be more than enough time to talk about Manchester when we go away before the game.

Do you need to reassure yourselves, considering that the match against Sochaux was not very convincing?
The final score didn't tell the real story of the game but we know what was missing from our performance: mobility, more availablility for each other and every one playing their part defensively. The defense is often pointed out as the weak link but the problems don't come from the defenders specifically but from everyone, from the forwards to the defenders we are not rigorous enough. It's a frame of mind and to progress we need to communicate more.

[IMG42894#R]What will be the objective against Le Mans ?
Firstly not to concede any goals. We are conceding far to many this season.

OL seem to be more reactive than proactive. Do you agree?
We're more of a counter attacking team at the moment. Last season we were more capable of dictating the run of play. This season we can move forward much more quickly. We don't necessarily need to have possession of the ball.

But against Manchester, you'll will need to have possession if only not to be subjected to too much pressure …
Not necessarily. We will have to stay compact and get forward quickly. Possession doesn't win games, realism wins games. I'm confident : in the Champions League, we have always been ready and able when we had to be. The Champions League is magical.

What does the match against Manchester represent for you?
These are the moments we live for, it's fantastic. That's the reason Manchester will be under more pressure than us.