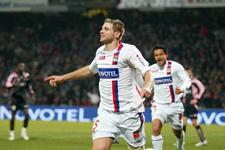 Reactions from Lyon and Sochaux after OL's victory.
Jérémy Bréchet : 4 – 1 is 4 – 1. It's all very well playing good football but if we don't score and keep conceding it will always be like that. We're are disappointed as conceding 4 goals is just not good enough. It all came down to set pieces, sometimes it's just like that, it's tough.
I know everyone here, it's a bit like my second home. It's always a pleasure to come back here for me.

Mathieu Bodmer : The best thing for me this evening was to be playing in midfield, it's the first time ths season that I've played 2 matches in a row in midfield. It was a good night, I scored 2 and we won 4-1, I hope we keep playing like that and it's just the start of a long run of victories. It's funny how the second goal came about, we were talking about the Croix de Savoie game at breakfast and I said if the ball had bounced back I would have been the first to get to it. Tonight that's exactly what happened.
The score is maybe harsh on Sochaux, but we played much better than we have done recently. We have to keep going on like that.

Juninho : I think for me everything went well for about an hour. I played with protection on my foot but you know once you are on the pitch you don't really think about it.
I'm very happy with the win even if the scoreline is a bit exaggerated, we didn't really deserve to win by so many goals. We proved that all our individual qualities are still there but we also played well as a team. We started the match well but then took our feet off the gas. We lack a bit of confidence at the moment and are trying to play more simply.
For us to concede a goal they way we did is unacceptable.

Christophe Galtier : What did I like about tonight ? Well 1. Juninho was able to play. He's very important to the group and this has reassured a lot of people. 2. The start of the match where we were very efficient, especially from set pieces. As the game went on though we found it more and more difficult. In the 2nd half we showed our determination and desire to win a game under difficult circumstances. At the moment we are more reactive than proactive but we can't be on top form all the time.

Jean-Jacques Amprino : We did everything we could so that Juninho wouldn't feel the break too much. We knocked up a set of boots specially for him. It's not a difficult injury to treat but it's very painful. We deal with it on a day to day basis, before each training session and before each match.
Fabio Grosso felt a slight tightness in his left calf so we took him off as a precaution.

Jean-Michel Aulas : The result was unexpected as it was a difficult game against a very good Sochaux team. We were in trouble for a while but all's well that ends well. We have some fantastic players who made the difference at the end of the game. We needed the win as Bordeaux were also victorious.
It is going to be an amazing match against Manchester. We could have sold 200 000 tickets for the game. For Lyon it is going to be unforgetable.
The negociations for the TV rights were very difficult, I know as I was involved. The glass is half full or half empty, it depends how you look at it. We had hoped for a bit more. The media had hoped for a bit less but it is a good contract. At OL we are going to concentrate on our Foundation and its humanitarian, social and educational values. The Foundation will benefit from some of the money we get from the TV rights.

Alain Perrin : It's surprising to see how a team can become fragile when something strange happens. The goal gave Sochaux more courage and hope, but the fact that it came while we were making an unwanted substitution pertubed us and they became much more difficult to deal with. Happily enough we refound our qualities and jumped on the chances that presented themselves to us. After finally getting through them thanks to a free kick they attacked more leaving space for us to profit from and we managed to score a few more.
His success comes from the fact that Mathieu (Bodmer) is always as available on the pitch as he is in training.