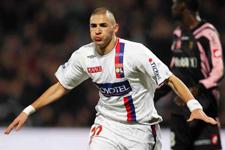 Sir Alex Ferguson, was spotted in the stands at Gerland, what points can he have noted after OL's large victory against Sochaux (4-1) ? First of all Lyon will welcome Manchester in 11 days time as leaders of the 1st Division; thanks to the win over Sochaux, OL keep their 4 point lead over Bordeaux. Another statistic that the Scottish manager will surely have remarked is that even if Grégory Coupet and his teammates aren't playing too well away from home they have won three games in a row at Gerland in the last two months.The Red Devils coach will also have seen them soak up the pressure piled on them in the second half, a second half where Lyon only created three goalscoring opportunities but scored 3 goals! And finally something he knew anyway : OL are better with Juninho, than they are without him. In the starting line-up even with the broken toe in his left foot, the Brazilian was heavily involved in Lyon's first two goals, before he was replaced by Källström with 15 minutes remaining on the clock.

It wasn't a good idea to take your time before entering the ground before kick-off. After barely two minutes, Hatem Ben Arfa went through the visiting defence, his back heel finding nobody nevertheless allowed Juninho to drop a corner Bodmer's head (2nd , 1 – 0).

In the 1st half, Sochaux had to content themselves with what was left them by OL's defence a defence in which Jean-Alain Boumsong played his 1st game at Gerland for Lyon. Only Isabey (13th) and Dalmat (34th) shot at goal. But Lyon gave their visitors hope of taking a point from their 2nd visit to Gerland this season with a series of missed chances : Juninho shot over the bar (20th), in a one on one against Richert, Karim Benzema missed the target (22nd); Richert then saved from a Juninho freekick (28th); put through by Sidney Govou, Hatem Ben Arfa could not reach the ball (43rd).

Then, what was meant to happen happened. Purists will tell you that all goals must come from mistakes. Certain goals however are more evitable than others. From a Sochaux throw in N'Daw found Maurice-Belay while Fabio Grosso was running to the touchline to be replaced by Anthony Réveillère, the player then centered for Pancrate, unmarked at the back post, who equalised (53rd, 1 – 1).

For a long time after this Lyon were unable to get back in the game. They could even have lost all three points if Sochaux had taken their chances. Coupet saved from Erding (56th), from a cross by Isabey, Toulalan played the ball directly to the Sochaux forward (66th), a header from Maurice-Balay missed the target (81st); Erding then came closest to intercepting the ball from Coupet but then hit his shot into the ground (87th ).

Sir Alex Ferguson was already gone. But he should know better than anyone else, since the Champions League final won in 1999, you should not leave the ground before the end of the game. Tonight was no different as Lyon's finish to the game was devastating and would have given lots of information to a Man United defence often named as the weak link in the "Red Army". Juninho hit the post from a freekick but the ball dropped to Mathieu Bodmer who scored his second goal of the evening (76th, 2 – 1). Fred then went on to prove his claim that he could play alongside Karim Benzema. First of all he played a perfect pass to Sidney Govou who hit the ball into the top corner (90th, 3 – 1). With his chest he then played in Benzema who scored his 25th goal of the season in all competitions (92nd , 4 – 1).