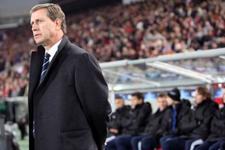 At Alain Perrin's traditional press conference, we learn that he has spoken to the squad about their upcoming fixtures… a very busy programme awaits them.
Everybody is back now, how did everything go ?
« Well we checked first of all on the players who were away on International duty. Everything seems to be fine except Fabio Grosso has a tight calf, we'll check on that on Friday. Juninho ? He's still in pain, it's an awkward zone for a footballer. We hope he'll be able to play, he wants to play but not if it penalises the team. He will tell us on Friday if he is up to playing».

Can you tell us what you spoke about with the group ?
« We talked about the programme for February and March. I have faith in the squad but I felt we needed to talk about certain problems we've encountered, I also spoke about the Croix de Savoie game, don't forget the players that were called up for International duty left us straight after the game on Sunday night. Even though there are certain factors that caused it, we recognised that the performance wasn't good enough. It shows that we are still fragile. Like I said I have faith in the players, I know they'll go out and show us what they are worth. I spoke and what I had to say was important, now everyone has to pull in the same direction. The fact that leaders like Juninho & Cris are missing ? That's really important ».

A word about Sochaux ?
« At home we really have to become invincible again. We have a busy programme ahead of us, we need to remember the qualities the group has. Sochaux ? They have been playing well since the winter break after a difficult start to the season and the problems they had with Grax and Brechet for example. They will be difficult to break down. It is a special game for me as well. We need to progress in all departments, which will help us to be ready for the games against Manchester. We cannot get to confident against a team that we have already beaten twice the season and who are badly placed in the League. We need to forget about where they are in the League ».

The amount of time Benzema has spent on the pitch? Boumsong fitting in? Cris? Delgado ?
« If you look at the number of games Karim has played you also need to look at how much time he has spent on the field, if you do that we go from 40 to 30 matches. I'm more worried about Toulalan and Källström, they spent a lot of time on the field for their respective countries on Wednesday.. Boumsong ? He has fitted in just fine, he already knew ¾ of the squad anyway and he has a lot of experience. It was good for him to get 2 games under his belt especially as they were not particularly strenuous matches, more like 2 good training games. Can Delgado start on Saturday? I'm thinking about it. Cris ? No, he's not ready for the CFA game on Saturday. Govou ? No problem».