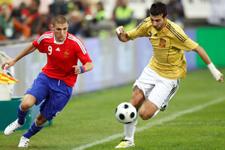 6 members of the OL squad played yesterday with differing fortunes : Coupet, Toulalan, Benzema and Ben Arfa in the French team lost against Spain ; Kim Källström and the Swedish teamdrew with Turkey; Grosso and the Italians were victorious over Portugal.
[IMG41392#L]4 of OL's players took part in the French national team's defeat (1-0) yesterday against Spain in Marbella. Grégory Coupet and Jérémy Toulalan were in the starting line up, Toulalan playing more out wide on the right than he usually does for OL.
Coming on after an hour in place of Nicolas Anelka, Karim Benzema maaged 3 shots on goal, he also hit the bar with a header.
Hatem Ben Arfa played the last 15 minutes of the game.
Even though he was expected to start, Sidney Govou finally did not play as he had a slight injury.

[IMG41391#L]In Istanbul, Sweden and Turkey played out a draw 0 à 0. Kim Källström playing the entire game.

[IMG42453#L]Italy beat Portugal 3 - 1 in Zurich. Fabio Grosso came on for the last half hour in replacing Zambrotta. He managed to lay on a goal for Pirlo who scored the Italian team's second.