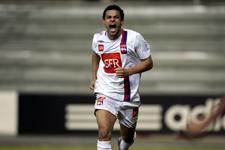 Following this mornings training session Fred looks back at his goal against Croix de Savoie. He also talks about his partnership with Karim Benzema and the upcoming game against Manchester.
- Fred, you scored your 1st goal of the season on Sunday. Relieved ?
- Yes, it felt really good to get the goal against Croix-de-Savoie. It's very important for a forward to score and I really needed a goal to get back into the swing of things. I feel like all my problems have been sorted out, I've been doing well in training and during matches … But I am not going to stop there, I have to keep playing well, scoring and you know I really want to show everbody what I'm worth.

- The goal came from a free kick as well … With Juninho and Karim Benzema you are going to be fighting to see who takes them…
- Yeah, we have many players in the squad who are good at taking freekicks. Karim scored a great goal against Saint-Etienne. Sunday it was my turn, I was a bit lucky it wasn't a great goal but the main thing is that it went in. Next time round it could be someone else. Kim Källström takes a good free kick … but when Juninho is back… it will be him as there is no-one better !

- On Sunday you played up front with Karim Benzema. How did it go ?
- We're starting to build up up a good understanding on the pitch, I like playing in the system we use and Karim is really easy to play with as he is an extraordinary player. We're quite different players but very complimentary on the field. Obviously it's up tho the coach to decide which system we use but I hope we'll be playing together often. Don't forget Sidney or Hatem who are very important to the team and who push us to play better.

- The Champions League game against Manchester is fast approaching … Is it on your mind ?
- We can't help but think about it as everyone is talking about the game, every time I eat out in Lyon people talk to me about Manchester ! It's a big game for the club but there are other important matches coming up beforehand, Sochaux on Saturday for example. The League is much tighter this year and we really can't afford to drop any points, afterwards we'll really start to think about Manchester … We're still in the Coupe de France as well which is something we really want to win. We will give our all in every competition and go as far as we can.

- You say you are feeling bettter and better at OL, your French has progressed as well …
- Yes, I think I've improved but I still have some problems. Isabelle (the interpreter) often corrects me, she says I need to build up my vocabulary. But you know I'm getting better all the time soon I'll be speaking French well !

- Amongst Brazilians do you all speak French now?
- We have no choice, as soon as we start speaking Portuguese the other players get on our backs ! But it's better this way, like that we can improve much more quickly !