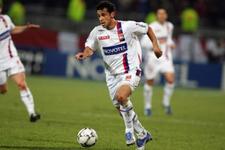 After a goal drought which has lasted since the 28th of April 2007, the Brazilian has finally re-found his scoring touch....
After having scored past Pelé in the 38th minute on the 28th of April 2007 ( 2 - 1 win). He scored his 32nd goal for OL after shooting at goal 174 times including 1 hattrick and 2 doubles. 21 goals with his right foot including 3 freekicks, 4 with his left and 7 headers. 32 goals in 5 368 minutes.

This is the 2nd time this season that OL wins 1 - 0. The first? Against St-Etienne at Gerland.

Coupet kept a 3rd clean sheet, after Lorient and Créteil, in his 7th game since his return from injury.

It was OL's 207th Coupe de France match.