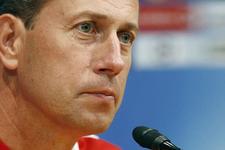 Does the elimination in the League Cup lend the French Cup more importance?
Of course. There is only one national cup available to us now. We owe it to ourselves to go as far as we can in this competition and to avoid the possible banana skin that the match against Croix-de-Savoie represents.

The draw was pretty good to you, but you will have to be a bit careful nonetheless?
Sure, it is a good draw, we are not going to deny that. It is much better than playing away against a First Division side. It is up to us to impose our tempo, our rythm and our level of performance on the match. If we lower our standards to those of the opposition then it becomes a game like any other, with all the hazards that come with it.

An early goal, like against Créteil, would be ideal ?
Yes an early goal would be good. We know that their main challenge is to be defensively strong as long as possible. It is up to us to make the break through quickly, thus stopping them really getting in to the game but also allow us to rotate the squad with a view to the important games we have coming up.

The team will have to be more aggressive than they were against Le Mans ?
I have spoken to the players about that. It was not just against Le Mans, we have been to timid in our away games for example against Lens or in the 1st half against Saint Etienne we just were not aggressive enough, unlike the performances we put in at home. We were forced to be reactive not proactive and had to chase the game. I hope we will be ready from the word go for the Cup game.

Will Jean-Alain Boumsong be in the starting line-up ?
Yes, Jean-Alain will start. He is qualified for the competition so yes he will start the game. It is important that he finds the necessary automatisms. He has been very motivated in trying to find his marks in the squad. We are counting on his experience, something that will be important against a lower ranked team. The young guys tend not to take these kind of games seriously while the older guys have all been surpised once or twice in their careers by smaller clubs.

Will you be giving Karim Benzema a rest?
Karim or someone else. Crosas and Källström are carrying slight groin problems. Juninho will be rested as he is still not quite fit for this match. Jérémy Toulalan is suspendued. Guys like Kim (Källström) or Crosas with their small problems may be rested but we do not want to weaken the team either.

Sidney Govou has been out for a while and came off against Saint-Etienne. How is he?
Against Saint-Etienne, he really played his part and only came off 5 minutes before the final whistle. Physically he is getting better, it was good for him to get that game under his belt and he will continue to play in order to get back to full match fitness.

The transfer window is now closed. Happy ?
Yes, we have recruited to compensate the departures. There is good balance in the changing room even if the group has been reduced with loan deals for two of our younger players. Considering the amount of remaining games and the imminent return of Cris, I think we have a very competitive group.

Do you think letting Loïc Rémy go was a good idea, he had been getting some playing time under his belt recently?
He was coming on because Kader Keita is at the ANC. But with Delgado signing Kader coming back in about 10 days, Loïc would have played less than he would in any other First Division club. It will be good for everyone, he and us will be able to see where his career is going.

Delgado will have the chance to build up his confidence in a game like Sundays'?
Yes. Confidence comes with amount of time spent with the squad, in training and on the pitch anyway, so it will be a good game for him.

Have you watched Croix-de-Savoie's matches ?
We have watched their two games against Red Star and Auxerre. They are well organised and have good players who will be more than capable of surprising us if we are not careful. Some of their players have a pro background, this is a big game for them they will be playing at 110%. Our difficulty will be breaking down their defence as they will be well in place. It is a bit like driving a Formula 1 on a hilly course : there will not be much space for us to play fluidly. We will have to be on top of our game in order to make the difference.

8 players have been called up by Raymond Domenech for the national team. Is that going to cause you problems ?
The problem is that certain players will be playing a lot of games : on Sunday then Tuesday or Wednesday. I will give Raymond Domenech a call to see what teams he plans on putting out. He will probably know at about 90% who will be playing. I will compose my teams accordingly. The players will fly to Paris from Geneva on Sunday night.

Will Cris be available for the 1st leg against Manchester ?
He has not even started training with the group yet ! We know that after two weeks holiday a player needs 6 weeks to get back to match fitness. Cris has been out 6 months. These things take time and we need to give him all he needs to get back his fitness. We are very happy with the progress his knee has made, now he is lacking a bit of strength.