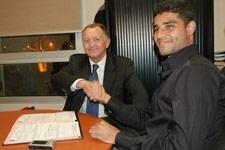 Ederson signed a four and a half year deal with Olympique Lyonnais from the OGC Nice. The two clubs will next discuss the terms of a six-month loan to enable the Brazilian to remain with Nice until the end of the 2007-08 season.

The transfer fee is approximately 15 millions euros. Jean-Michel Aulas was delighted with this "important investment" for "one of the rising stars of the championship". "This afternoon he could have signed for Manchester uUnited or Real Madrid but he chose OL, it's another sign that our club has grown, and so has its fame," he added.

At 22 years of age, Ederson is one of the great hopes of the French first division. His arrival reinforces "a great team, a squad of exceptional players, combining young and talented internationals like Hatem (Ben Arfa), Karim (Benzema) and Loïc (Rémy). Tomorrow's team will be fighting on a level playing field against Europe's biggest clubs, such as Real Madrid and Manchester United," declared the Lyon President.