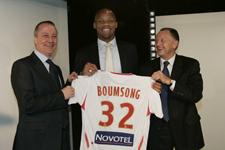 In the presence of Jean-Michel Aulas and Bernard Lacombe, Lyon presented their new defensive signing Jean-Alain Boumsong to the assembled media in the offices of OLTV. Boumsong signed a three and a half year deal for a transfer fee of €3million…
Jean-Alain Boumsong:

Are you happy to have joined OL?
I'm delighted to have joined OL. I'd really like to thank Lyon for the determination they showed in bringing me onboard – it's been a while now that we've been in contact. It's taken a while. Before joining they asked me two questions: 'Are you interested?', and 'What are your conditions?'. I answered 'Yes' and 'Any conditions to make it happen'. OL are a big club. Coming here is anything but a backward step. I'm also delighted to be returning to Ligue 1, a quality championship. I'm coming back to the best team in France, a team competing on several fronts. I won't hide the fact that I made a few financial concessions to join OL, but I'm at a point in my career where I need to rediscover the joys of playing.

At OL, you'll fighting for a place with Cris and Toto Squillaci… does that worry you?
No. I know all to well that there will be competition – a player that's not prepared to fight for his place should find a new job. I know I'll have to work hard because I know there won't be any special treatment for me. But competition for places is the sign of a great team, and it's always a positive when the competition is fair and honest. The main thing is the team, everyone has to pull in the same direction. Competition comes second to the results of the team…

[IMG42872#L]Are you worried about being out of form?
I need two matches to get back into the rhythm. Then there's also the understanding with my teammates which needs to come. I just hope it comes as quickly as possible because I'm going to be quickly thrown in the deep end.

What's your opinion of your three and a half years overseas?
I've had three and a half years that I'd recommend to any ambitious player. Not everything was perfect, but I learned new football and new cultures: the experiences that will serve me well for the rest of my career and my life outside of football. If I had to do it all again, I'd do it the same way.

Do you still think you have a chance of making the France team for Euro 2008?
There are still a few months before the Euro. I believe in hard work and I joined OL to work hard. My aim is to play in Euro 2008 and that will only happen if I play well with OL. If I do play well, OL will be a trampoline into Les Bleus, but I repeat: I'll have to work hard for it.


---