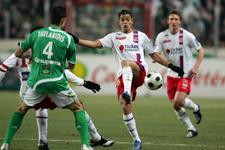 Check out who said what after Lyon's draw with Saint-Etienne...
Jean-Michel Aulas: On the strength of our second half display, we deserved to win this match. Especially considering Fred's goal should have stood. It's not a good result in so far as Saint-Etienne are lowly ranked and we need the points, but the second half was full of promise.Tonight we saw some real football. Another reason for Canal+ to pay the right price for the television rights.

Kim Källström: We deserved the draw. The first half was very balanced. We talked at half time and we showed enough desire to get the point in the second period. We played well and for the morale, it's a good result.

Hatem Ben Arfa: It was a deserved point because we created a lot of chances. I think we're staisfied with the draw. We weren't good enough against Le Mans and Lens. The second half was tough because the ground was very hard. But we played better football in the second half. We earned a point on Bordeaux which is also a good thing. We need to go on with it now against Sochaux in two weeks time and build our lead in te standings.

Mathieu Bodmer: They scored a lucky goal, but Gomis was in the right place at the right time. It was a blow because we were looking good until then. We were able to lift in the second half and you can't afford to lose a derby. That's why Toto and I went forward in stoppage time. It's a good away point and now we need to take all three against Sochaux at home.

Karim Benzema: Normally, it's Juninho that takes the free-kicks. I said I wanted to take it and my teammates left me alone to take it. I took my time and tried to get it on target. It was a really tough game with very little space. Derbies are often like that. But in the 80th minute, we didn't drop our heads, we dug deep, which makes OL the best team in the championship.

Sidney Govou: It's the same as a win, even if on the strength of the second half we showed we could have done better still. Ahead of the match the coach told us to give it everything and believe in ourselves. That's what we did.

Grégory Coupet: I was dreaming of that equaliser. Karim has lifted a huge weight from my shoulders for the rest of the season. At the end of the match I wanted to exchange my top with him. His goal was magnificent. It was as though he drained the entire stadium of energy. For a youngster, from Lyon, it must be an amazing feeling. If my mistake had cost us the match it would have been terrible. Despite it all, missing out on the three points is still a little regret. Still, my mistake will remain a painful memory for a little while yet. But that's football and despite that, I'm feeling better and better.