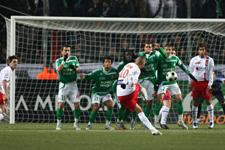 Trailing until the 92nd minute, Lyon earned a 1-1 draw away to Saint-Etienne at the Stade Geoffroy Guichard thanks to Karim Benzema's last-minute free-kick. Lyon now lead the standings in Ligue 1 by four points, from Bordeaux, who lost to Lorient, 1-0 earlier in the days…
Les Stéphanois were far away from winning their first derby match in nearly 14 years. Close, but not close enough. Once again Lyon owe their success to the sublime talent of Karim Benzema who turned a imminent defeat into a thrilling conquest. Deservedly so. Despite equalising in the final seconds of the match, it was no loss than Les Lyonnais merited. They never stopped trying, they refused to give up, but merely had no luck in front of goal.

In such circumstances, a late, late draw against Les Verts is just as important as a win. In terms of the standings, it sees Alain Perrin's side extend their lead by one point at the top of the standings – from a Bordeaux side defeated 1-0 by Lorient earlier that same afternoon. It also represent a huge mental victory, so late did they snatch a draw from the jaws of defeat, especially considering things haven't been going Lyon's way in recent weeks.

With the championship taking nearly two weeks off and making way for the Coupe de France and Les Bleus, Benzema's thrilling free-kick sees the champions in the perfect state of mind to prepare for a crucial month of February.

Even if OL left it late, Saint-Etienne can't claim they were cheated because if it was a boxing match, the champions would never have lost on points. But once again, they paid the maximum price for their rare defensive lapses. In a first half in which they didn't necessarily run the show, Les Verts were still the more dangerous of the two sides. After a Bafetimbi Gomis goal was ruled out for offside (22'), the 32,000 home fans must have thought they were reliving the nightmare from Glasgow (1976, not OL in 2007) as Toto Squillaci (37') and then Grégory Coupet (40') turned Geoffroy Dernis' free-kicks onto the (round) goalposts. Having saved his side with a brilliant stop, the Lyon 'keeper then handed Les Verts the opening goal, clearing the ball directly onto the head of Gomis (45+2', 1 – 0).

Yet the match had started brightly for Lyon. To mark his return to competition after more than a month on the sidelines, Sidney Govou pulled off a 'Double Sombrero' over the heads of Varrault and Nivaldo before seeing Tavlaridis save on the goal line (3'). Toto Squillaci (20'), Kim Källström (26', 34') and Govou again (35') were all unable to hit the target.

Trailing at the break, Lyon came out from the half-time break in determined fashion. The second half turned quickly to their advantage and only Ilan could force Coupet into action (49', 55'). Hatem Ben Arfa, having already missed out in one one-on-one versus Viviani (21') then took too much time against the opposition 'keeper (52').

Fabio Grosso (52', 74') and Ben Arfa (69') then missed the target. Fred followed with a hot over the bar (66') before seeing an effort ruled out for offside (?) (76'). Viviani saved from Delgado (84') and Benzema (87'). Statuesque, however, the was absolutely nothing he could do deny the top scorer in stoppage time (92', 1 - 1). Benzema placed the ball deliberately for one last effort with all Lyon's hopes placed in him… the was a sense of anticipation… this young striker, 100 per cent Lyonnais, just 20 years of age, fired home his 24th goal of the season in all competitions*, and his second of the season against Les Verts. It's moments like this, when football transcends the every day, and rockets into the realm of magic.

*15 in Ligue 1, 3 in the Champions League, 3 in the Coupe de France, 1 in the Coupe de la Ligue and 2 for France.