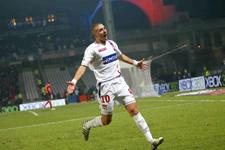 Check out who said what after OL's 2-0 league win over Lorient on Wednesday…
Alain Perrin We got a good result tonight, and we played well. From the kick-off we showed our intentions. I asked my players to concentrate at the back because Lorient attacks bery quickly, but I really wanted to whole team to focus. It'sa great way to prepare for the derby, in terms of confidence and also the way we played. We need to reproduce this performance at the Stade Geoffroy-Guichard. And I'd like to highlight Fred's good performance. He's been good in training and tonight he showed plenty of positive things in attack.

Mathieu Bodmer We played a big game tonight. Everyone saw a strong, aggressive team, both in attack and in defence. We scored two and we didn't concede… A perfect night… I felt a little twinge in my groin so thought it better not to take any risk. I've already had this type of injury in the past… it's nothing serious. I came off just to avoid taking a risk. I'll be ready for the derby on Sunday.

Fred I was really happy to start a match at the Gerland. It feels good, even though it would hae been nice to score. Physically I'm doing better and better. Mentally as well… I've sorted out all myproblems and I'm ready to give 100 per cent to the team and prove to everyone that I want to work hard for OL. I'm happy for everyone tonight. We had a good game and we're full of confidence for the derby.

Jean-Michel AULAS I'd like to congratulate everyone because matches are won on the pitch but also behind the scenes. The players and staff have done a lot of work and our defeat to Lens received a lot of media attention, and everyone reacted well. We played some great football, we didn't concede a goal and we saw several of our young players out on the pitch. That's great! Next up is Saint-Etienne and we have to maintain our lead over Bordeaux. I think it's good that Bordeaux are trying to mix it with us… it makes us work even harder.
The transfer market? For Jean-Alain Boumsong, things are going forward, but it's also very complicated. We thought everything was done on Tuesday night and now we see that he's with the team in Milan tonight for the Coppa Italia. He should still arrive in Lyon tonight. We hope to finalise everything on Thursday when he has his medical before signing a three and a half year deal. Jean-Alain really wants to join Lyon. The idea of playing for the championship and in the Champions League excites him. He also wants to break back into the France team…
Ederson? Yes, we're very interested in him. As are a lot of people but we're trying to finalise a deal with him. Nice and the player have agreed, but it certainly won't be for January. Nice are very tough on when their player is available although I haven't lost all hope. We'll go and meet them again very soon.