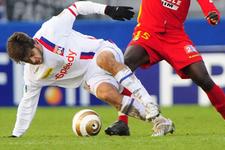 Juninho is "very doubtful" for Lyon's trip to Lens, according to Lyon doctor Jean-Jacques Amprino. An x-ray of the Brazilian's left foot on Thursday morning revealed a fracture of the little toe.
"Keita followed me everywhere throughout the Le Mans match and stepped on my feet several times," explained Juninho. "In the second half, I got tackled and then played for 20 or 25 minutes in pain."

Juninho will have to rest the foot for a few days. "It's not a serious fracture, but we can't tell how long it will take to recover enough to play," added the OL doctor. "It all depends on Juni's reaction to the injury and his ability to get the boots on without any pain. On Friday we'll make him some special protection for the toe and see from there."

Despite the pain, which even prevents him from working, Juninho couldn't hide his desire to play as soon as possible: "I want to play, because the derby is just around the corner and so is the Champions League."

His potential withdrawal from Sunday's game should comfort Lens. The Racing Club are the midfielders preferred victims with 8 goals scored.