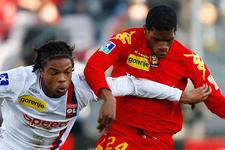 Check out who said what after the Coupe de la Ligue quarter-final between Le Mans and OL…
Christophe Galtier: We started poorly, making far too many mistakes early on. That meant we created very few chances. Our disappointing first half has very serious consequences. We lacked aggression in the first half and didn't win many duels. To sum up, we didn't play for 45 minutes and then we had to chase the match.

Karim Benzema: We're very disappointed. In a Cup match there are no favourites. Their youngsters were hungry and they had a great first half. We tried everything in the second, but it wasn't enough.

Grégory Coupet: Our first half display cost us this match. Le Mans played it just right. It was a classic Cup match. We lacked a bit of energy in the first period and in the second, we were up against a superb goalkeeper. We lost 1-0, but there's no shame in this result.

Yohann Pelé: As a goalkeeper, you know that you're probably going to have more work when you play Lyon. We battled to our strengths and for us, the Cups are a huge source of motivation. Hopefully this will be our year.

Alain Perrin: Tonight we're very disappointed because you have to give everything you've got in a quarter-final. We made a good start but we made too many mistakes, we thought it was just going to happen and it cost us a goal. We lost this match in the first half. From then on, Le Mans just got numbers behind the ball. The desire we showed in the second half wasn't enough. We thought it was going to be an easy match, but even against a Ligue 2 side we would have struggled playing like we did. We have to learn from this match because no-one's going to make it easy for us.

Loïc Rémy: Tonight was my first start. I tried to give it everything, to do the maximum. But we leave Le Mans, who weren't necessarily better than us, with plenty of regrets. We went to sleep and it cost us a goal and that's all it took. It's a shame because we really should have scored at least one.