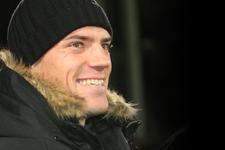 Check out who said what after Lyon's Week 20 league win over Toulouse…
Bryan Bergougnoux: We made a great start to the match but Lyon are a very good side. Hatem Ben Arfa and Karim Benzema caused us a lot of problems are were just too quick. It was very hard to stop them. The first half was fairly even but they found more space in the second period and up front they move very, very fast…

Jean-Michel Aulas: It was a good match made difficult by that unlucky goal at the start against a team that have caused us trouble recently. We are also in a tough situation at the moment with the squad, so I'm very satisfied.
Concerning the mercato, we've done the best we possibly could. At any rate, are decisions were taken to put us in the best possible position for the last six months of the season, with the best atmosphere within the squad we could have. If the coaching staff feels we still need a little security, because Crosas can't play in the Champions League and we're a bit light on in the full-back department, it's possible we'll see another addition… Bernard Lacombe and Rémi Garde are heading to the CAN in Ghana, in principal for next season, but you never know… We'll take any opportunities that present themselves, because we are looking towards a big 2008…

Kim Källström: We were up against a very good defensive side. It was a deserved and, in the end, quite easy win because we were able to control the match. We can always defend a little better, but we were good in attack. Hatem and Karim are two great players who can break open any match.

Anthony Réveillère: Physically, I was a little apprehensive before kick-off, but I felt better and better with each passing minute…
After conceding the opening goal we went on the attack and even if the second goal we conceded was stupid, overall it was a good performance.

Grégory Coupet: After going behind, the team reacted well and really put the foot down. We could feel the desire to rectify the situation. We've got a great squad. Now we just have to fix the little mistakes and be a little more controlled at the back to avoid a stressful end to a match like we had this evening…
Personally speaking, I really missed the Stade Gerland. Each day I've got a little more pep, speed and confidence. I'm happy with my performance tonight. I'd like to dedicate my late save against Elmander to all those that helped me during my comeback from injury.

Alain Perrin: It was a very interesting match in terms of our movement in attack. After conceding the early goal, we deservedly got back on level terms and then went on with it.
The was plenty of motivation to get back into league action… we know we don't have a huge lead in the championship and we need to win at home…
My players know they're going to battle to the very end. They're focused on their objectives and they know there are some great things waiting for them in this second half of the season. The squad gets on really well and you can see it on the field by how well we can play.
I was pleased by the way the players wanted to play together. It shows that the team spirit is right there.