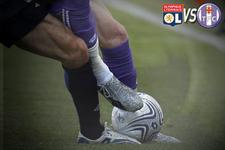 After a gentle outing in the suburbs of Paris last weekend, now it's time for Toulouse – a team who have been something of a thorn in Lyon's side over the past two seasons… The league is back on and there's still a long way to go… Lyon need to take all three points…
In less than a week, Fabio Santos has left, Fred is back, for the time being, or longer, Delgado and Crosas have signed on. Keita has gone from the substitute's bench to the CAN with the Ivory Coast. Govou, Cris and Müller are still out injured. The Argentine and the Spaniard are not in the squad for Saturday's game. The Brazilian striker has profited from the injury to François Clerc to take his palce in the 18-man squad. Alain Perrin isn't in a position to pick and choose. "We entering a two or three week period now where we're going to be a little short…" admitted the Lyon Coach during Thursday's press conference. No less than six players from the youth team have been called up.

And of course, the game is there to be won! OL are coming off three league games without a win. The two points from two draws and the solitary goal scored, against Nancy, don't live up to the usual high standards of the sextuple champions. The four point lead over Nancy, simply isn't enough. The championship isn't over yet! OL will again be counting on its marvels Benzema, Ben Arfa and Juninho, the trio that has supplied 35 of 58 goals and 18 assists this season. As well as the fit again Grégory Coupet, the tireless Toulalan…

[IMG42396#R]For this first outing of 2008, it's the TFC, a side that's become something of a bête noire for OL. Toulouse president Sadran the last four games of against the French champs have been a pleasure: 2 wins and 2 draws – in other words, the best of any Ligue 1 side. Elmander, a goal-scorer inspired almost exclusively by scoring league goals, and Toulouse's (not-so) secret weapon. Powerful, effective, skilful, he can do it all. Hasn't he scored 10 of the side's 19 league goals this season? Hasn't he scored Toulouse's last seven goals? Yes… but he has never scored against Grégory Coupet (2 he scored twice against Rémy Vercoutre). The TFC is deprived Africans Emana, Mansaré, Santos and Constant. The former two were certain starters. And they're also without Mathieu, Dao, Congré, Jönsson, Paulo César all injured and the unsettled Fabinho. Former Marseille winger Arrache could make his first start for his new club.

d'Elie Baup's side only has 19 league matches left to contest after being dumped out of the Coupe de France last Sunday.

Unable to beat Toulouse in their last four meetings, angered by the sending off of Kim Källström in the first meeting this season, the loss of their captain Cris, and knocked out by Elmander's 89th minute winner, the six times French champions could be forgiven for being motivated by a respectable spirit of revenge. A win would also see OL put to rest the memory of last year when a defeat to Toulouse saw Lyon go on to take a solitary point in the month of January. Plenty of reasons to start the year with a league win!