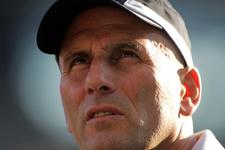 Le TFC started 2008 with a disappointing Coupe de France exit, while the club is installed in the mid-table in the league…
Eliminated from the Champions League in the third qualifying round, then from the UEFA Cup and now both domestic Cups, there are just 19 matches left this season for Nicolas Dieuze and Co. In the first half of the season that amassed 25 points in Ligue 1:

6 wins, including 3 away from home: OL 1-0, Auxerre 2-0, Lille 1-0 all at home and Marseille 2-1, Sochaux 1-0 and PSG 2-1, all away.

7 draws including 2 away from home: Lens 1-1, Metz 0-0, Monaco 0-0, Nancy 1-1, Rennes 0-0, all at home and Nice 1-1 and Le Mans 1-1, both away.

6 defeats including 4 four away from home: Saint-Etienne 2-0, Strasbourg 3-1, both at home and Valenciennes 3-1, Caen 2-1, Lorient 1-0 and Bordeaux 4-3, all away.

19 goals scored: 3 from outside the penalty area and 16 from within; 2 headers (Gignac and Elmander); 1 penalty (Elmander against Bordeaux); 0 free-kicks; 5 goals following free kicks; 1 following a corner and 2 two from crosses. 7 goals scored in the first half. Elmander 10 goals, Emana 3, Dieuze 2, Gignac 2, Sissoko 1 and Bergougnoux 1. Elmander has scored the last seven goals for Toulouse in the league, including a treble against Bordeaux. The 19 goals have come from 216 shots.

21 goals conceded: 4 from outside the penalty area and 17 from within; 2 headers; 1 penalty (Pauleta for PSG); 1 free-kick (Wendel for Bordeaux); 9 goals from crosses; 4 following corners; 1 following a free-kick; 11 goals conceded in the first half. 21 goals conceded from 273 opposition shots.

25 players used by Elie Baup. No player has taken part in all 19 League matches so far. Emana and Ilunga have played 18 games, Dieuze and Douchez have played 17…

46 yellow cards: Elmander 6, Dieuze 5, Emana 5, Sirieix 4… 3 red cards: Dieuze, Douchez and Battles.

From their last 10 trips to the Stade Gerland, the TFC have recorded 0 victories, 4 draws and 6 defeats. The last two matches have ended in 1-1 draws.

Les Toulousains lost their Champions League third qualifying match against Liverpool, before being eliminated after the UEFA Cup group stage from a section comprising Bayer Leverkusen, Sparta Prague, Zurich and Spartak Moscow, before losing to Caen in the last 32 of the Coupe de la Ligue and Paris FC in the last 64 of the Coupe de France.

Bryan Bergougnoux celebrates his 25th birthday on Saturday January 12.