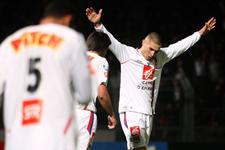 Total domination by the six times French champions against Créteil in the Cup... And a first professional start for Sandy Paillot, who becomes the 23rd player to wear a Lyon shirt this season...
13 Lyon shots at goal and four goals scored: Benzema 5 (3 goals), Ben Arfa 2, Juninho 2 (1 goal), Grosso, Toulalan, Källström, Anderson. 7 shots on target, 5 off target and 1 blocked; 3 from outside the area and 10 from inside (4 goals). 3 goals came from crosses and one from the penalty spot.

19 opposition shots at goal: 3 on target, 8 off target and 7 blocked; 15 shots from outside the area and 4 from inside. One missed penalty.

Coupet made 5 significant saves.

12 free kicks for OL and 8 for the opposition; 8 corners to 2; 2 offsides to 1.

One yellow card: Paillot.

Sandy Paillot made his debut with the professional team and becomes the 23rd player used by Alain Perrin this season.

It was OL's 206th Coupe de France match boasting 144 different scorers. Juninho now has 6 Cup goals to his name while Benzema has 5 (all 5 scored in round of 64 matches!).

Juninho scored his 87th goal in a Lyon shirt, joining Schultz in the all-time scoring list. He scored against his 54th different goalkeeper. Benzema has now scored 19 goals this season, equaling Peguy Luyindula's performance for the whole of the 2003-2004 season...