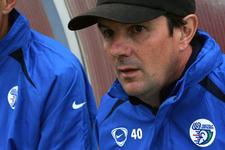 Créteil, which played last season in L2, is ranked just 9th in the National at the winter break. In the Coupe de France, the Cristoliens have made it this far by beating lower-ranked sides…
18th with 40 points last season in L2, the players of president Armand Lopes were relegated last season. Trivino, Danjou, Domoraud, Terrier and Elzéard are all part of the side. With 26 points from 19 matches, striker Vairelles and co haven't been in stunning form in the first half of the season, but they are only 10 points behind leader Vannes.

6 wins: Beauvais 1-0, Nîmes 2-0, in Rodez 1-0, Entente SSG 2-0, in Pau 1-0 and Cannes 3-0.

8 draws: Sète 0-0, Villemomble 1-1, in Laval 1-1, in Vannes 1-1, in Arles 1-1, in Calais 0-0, Martigues 1-1 and Louhans 2-2.

5 losses: in Tours 2-1, Istres 2-1, Cherbourg 1-0, PFC 2-1 and in Romorantin 1-0.

20 goals scored: Vairelles 6 including 2 penalties, Guedioura 4, Maiga 3, Pancrate 2, Mokdad 1, Khenmiche 1, Abbar 1, El Omari 1 and Effa Owona 1.

The team is managed by Thierry Goudet.

A former Lyonnais played at Créteil in 2000-01: Ghislain Anselmini, during the presidency of Alain Afflelou.

In Coupe de France, Créteil beat Montrouge (PH) 4-1, Chatillon 3-0, Chamont (DH) 1-0 and Reipertswiller (DH) 1-1 (4-2 on penalties). 4 qualifications obtained on the road. A reminder: in 1997, Créteil was eliminated in the quarter-finals 3-1 by Guingamp. The Cristoliens had knocked out Strasbourg in the last 16.

Créteil will host Tours on January 12 for the beginning of the second half of the season.