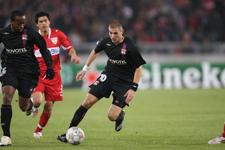 Reactions after the match between VfB Stuttgart and OL.
Anthony Réveillère: We knew it would be tough. It was up to them to play their game. For about 15 t o20 minutes we sat back and looked to counter. Tonight, our defensive plan worked well. We conceded almost no chances. So it's really good news for the return leg.
Just before the break, we missed some chances but during half time we said to ourselves that we were going to create many more.
We believed; we knew the match was important. Now we need another win, at Gerland. We got our Champions League campaign up and running tonight. We have 3 matches left and we have to keep believing. With 6 points now, it's easier. Let's hope it continues.

Karim Benzema: Tonight the only objective was victory. We played a good match even though it was tough. We won the battle of the midfield.
My miss? That's football. Afterwards, in the second half, I scored, but the most important thing is that we won 2 goals to 0.
For 2 or 3 games now, we've been very solid and comfortable. I hope it continues.

Hatem Ben Arfa: It's an important win. We had to get a result tonight. Now we have to look ahead to our next match and prepare faultlessly.
Stuttgart is a good side. It'll be tough for Rangers when they come here. Before the match I was already optimistic, and I still am. Now we just have to take the matches one after another. We'll try to win everything and then see what happens. We're on a roll now and improving all the time.

Fabio Grosso: We had to get a good result tonight to get our campaign going. Tonight we played as we should, as we have been for several matches now. We're going to give it our all.

Bruno Genesio: The result reflects the tenor of the match, and improves our place in the group, which gives us hope. We played intelligently tonight, with a good defensive basis, from which our excellent attack took off.
Rangers and Barça drew. Most important is that the Scots didn't win. We know what we have to do now; try to win every match as it comes.

Jean-Michel Aulas: We saw a great performance from the OL side tonight. They were creative and the match played out as we planned. It was a must-win for both sides, and the joy of winning is terrific. We're very proud of what the players accomplished; we're back on track in Europe now, which is great news for Lyon and French football in general, which needs teams to take it higher and higher. Marseille and OL need to do that in the Champions League. We had to take it in steps: first, coming here saying we would play for a UEFA Cup spot; then, with a good result, daring to hope for a European future, which is now possible thanks to these 3 points. We know we would be competitive in the UEFA Cup, but Champions League qualification is still possible. Things are looking up.
The team has improved, as have the directors, who have created a solid base. We've played to our strengths and certainties. Football is very demanding. Bravo to Alain Perrin and the whole squad.

Kim Källström: Before the match, we knew we had to play with a very compact defence, the way we did against Bordeaux. And we did it. It was a good match against a tough opponent. We achieved what we set out to achieve.
Now we'll do everything we can to qualify, even though we know it'll be tough, even at home. We need to get our heads straight for the match.

Alain Perrin: Above all we didn't want to lose while trying to win this match against Stuttgart. It was a smooth operation; this win gives us hope in the Champions League. We need to back the result up in a fortnight's time. I tip my hat to the players tonight, who showed a lot of teamwork and cohesion to get this result. WE managed to keep the ball rolling from the matches against Monaco and Bordeaux: defending well before using the spaces. We were always going to score. We just needed to stay solid defensively, which we did, and early in the second half we made the break.
We gave Hatem (Ben Arfa) a start because we knew he would bring a lot to us in terms of attack.
We've shaken the curse. We need to keep working hard and then we'll see how things pan out.