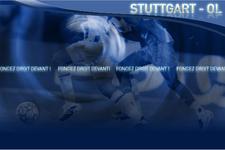 After 2 rounds, Barcelona and Rangers have 6 points apiece… while VFB Stuttgart OL are yet to open their accounts. Obviously this match against the German club is OL's last chance to keep up their hopes of qualification…
It's hard to imagine OL being knocked out of the group phase this season without scoring any points at all! So let's hope that OL's disasters from the first 2 rounds won't be repeated. OL, like VFB Stuttgart, have no choices left. They absolutely must get maximum points from their next 4 games to have any hopes of making it to the knockout phase. And even then it might not be enough considering their poor goal difference vis-à-vis Barça and Rangers. But there are other possibilities after the results against the Spaniards and the Scots. Should OL leave the Champions League, the UEFA Cup would be an important consolation. Worst-case scenario? It goes without saying: a total failure!

This match at the Gottlieb Daimler Stadion has taken on an immense significance for Juninho and co, who could keep their European dream alive. VFB don't seem terribly threatening despite the presence of Meira, Gomez, Ewerthon… The Schwabian has never won a European honour. Its start to the season has been just short of all-out failure. But that doesn't mean that it'll be a walk in the park for the Lyonnais; this German side never goes down without a fight.

Juninho and Govou will remember that the Olympiens have won their last 3 matches in Germany (in Munich, Bremen and Leverkusen). Juni scored 2 goals; 2 of his total of 33 free kicks (against Bayern and Werder). Fred will be out for the game; the Brazilian will serve his 3rd match of suspension after his clash with Christian Chivu in last season's match against AS Roma. Alain Perrin will be spoilt for choice, notably in the midfield. Will Fabio Santos get his first taste of European action?

OL's squad for 2007-08 may not be as strong in Europe as its predecessors, but it certainly has the quality to play well and win. At the Gottlieb Daimler Stadion, OL will have to put the pedal to the metal and forget about the brakes. The road will be full of curves; this dangerous match looks sincerely exciting. Gentlemen, plough straight ahead!