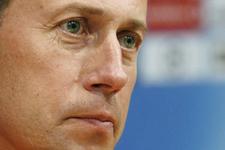 Anthony Réveillère and OL manager Alain Perrin were present for OL's press conference.
Anthony Réveillère

How are you approaching this match against Stuttgart?
It's an important match for the 3rd place, which will be decided over the two legs. So we want to get a good result.

Is 3rd place a possibility?
We're not going to get ahead of ourselves. We started the competition poorly. We need to take the matches one after the other. But we don't feel that we're doomed; Stuttgart is in the same position as us. It won't be an easy match. First we'll play this match and then we'll see.

What are the difference between Ligue 1 and the Champions League?
In Ligue 1 there are 38 matches and in the Champions League there are 6, at least to start with. We've had a worse start than we usually do. In the Champions League you have to take maximum points at home. You have to be ready and perform at 200%. We've learned our lesson and won't be making the same mistakes we made in our 2 last CL matches.

Is this a crunch match?
Both games against VfB Stuttgart are important for our European campaign. We don't need any more pressure; everyone knows what we have to do. We're used to playing big matches, so we're not afraid.



---
[IMG42592#R]Alain Perrin

Is it crunch time?
This double-header will give us a chance to continue our European adventure. We want at least to make it to the UEFA Cup. So a result here is very important. The picture will be clearer after we play our 4th match.

What are the club's ambitions?
We're realistic, our chances of qualifying for the next phase are slim right now. We don't have our destiny in our own hands. The UEFA Cup could be interesting but we'll ride our luck as far as we can.

What do you make of this Stuttgart side?
Their league form seems to be an anomaly. I saw them play in Glasgow and they deserved a better result. They have quality up front, but they're not scoring. I think they have a post-championship hangover to deal with. But the Champions League is another story and could give them a chance to rediscover their strength and solidarity.

What have been OL's problems in the Champions League up to now?
The two matches, against Barcelona and Glasgow, were very different despite the final score being the same. We didn't put our chances away against Glasgow, which changed the result. We need to find the goal scoring form we currently enjoy in domestic competition. Our defence? Against Glasgow we forgot the basics. We'll need to be solid defensively before we go looking to attack.

Are you out to hit back after your first 2 matches in the Champions League?
Yes, absolutely. But we can't afford a rush of blood to the head – we have to remember the basics. Our last 2 L1 matches showed we can play differently.

Will you be counting on Barça to help you qualify?
Don't underestimate Rangers. They're hard to move around, and that's why our destiny is no longer in our hands.

According to Armin Veh, OL is the favourite. What do you think?
I see it the other way: at home, Stuttgart is the favourite. Their result against Rangers doesn't tell the whole story.

Are you disappointed, hopeful or worried after the first 2 rounds of the Champions League?
The results speak for themselves. Then you can look at what happened on the pitch. We did all we could against Rangers but it didn't work. We've addressed our faults from that match. We're determined and we'll stay vigilant so we can get a result here against Stuttgart.

Are you relying on "Mercedes Benzema"?
He was partly rested against Monaco with this match in mind.