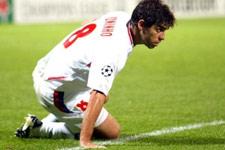 Since OL has been involved in the Champions League, the Olympiens have always won their points in the first half of the group phase…
In it's 7 previous participations, OL has never had a record of 0 points after 2 matches. Here is a look at OL's points tallies from the first halves of its previous Champions League group phase performances:

In 2000-01: 3 points
In 2001-02: 3 points
In 2002-03: 6 points
In 2003-04: 4 points
In 2004-05: 7 points
In 2005-06: 9 points
In 2006-07: 9 points

In 2000-01, the Lyonnais qualified for the 2nd phase of the competition, taking 6 points from the return legs. In 2001-02, they took 9 points but didn't qualify. In 2002-2003, they also failed to qualify after taking 8 points. After that, OL qualified every time, with 13, 16 and 14 points.