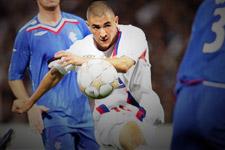 Three Lyonnais took part in France's 2-0 win over Lithuania in Nantes. Starters, Karim Benzema and Jérémy Toulalan played the whole match, while Hatem Ben Arfa came on in the 70th minute.
Karim Benzema, scorer of a double against the Faroe Islands on Saturday, didn't score this time around despite having quite a few chances. He had a shot blocked by a defender in the 14th minute, fired wide in the 38th and scuffed his shot in the 49th as well as losing a one-on-one against the Lithuania keeper in the 82nd.
Very, very strong in recuperating the ball, in front of his old fans at the Beaujoire Stadium, Jérémy Toulalan was tireless in midfield, fired a shot over the bar (67') and finished his strong performance with a decisive pass for Thierry Henry.
Hatem Ben Arfa also could have scored but somehow screwed his volley wide (74'). He provided the final ball for France's first goal.
Injured, Sidney Govou had to watch the game from the stands.

France had to win to make the most of Scotland's stumbling against Georgia (0-2). Raymond Domenech's men had to wait until the end of the match, when they scored twice in one minute. Thierry Henry's winning goal was first of all (lightly) deflected by Franck Ribéry (80'). Released into space by Toulalan, the Barcelona striker went on to beat Karcemarskas in typically "Henry-esque" fashion (81'), in so doing becoming France's all-time top scorer.

Thanks to this win, France regains the lead in Euro 2008's qualifying group B, 1 point ahead of Scotland and 2 ahead of Italy. Last hurdle for Les Bleus: the Ukraine on November 21.