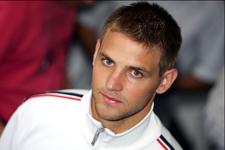 Since the start of the season, Mathieu Bodmer has played most of his games in central defence. The arrival of Cleber Anderson will give the former Lille player a chance to return to his habitual post in midfield: "little by little, I'm getting better," he confides.
The internationals return tomorrow. What have you worked on during the international break?
The break has been good. We did a lot of work on the basics, toning and weight work. We did some big, long sessions. Tomorrow, the internationals will return with all their enthusiasm. If France wins tonight, it'll give us a good dynamic for Saturday's game.

Is it tough to get back into the swing of things after such a long break?
No, on the contrary. We're happy to have had 10 days of really hard work. Now we're keen to get into the rhythm of a game every 3 days up until the next break.

Is AS Monaco a good side to meet for the return to league competition?
I'm not sure that there is a good side to meet in such a situation. It's all about the 3 points. We need to win to keep the ball rolling and to stay on top of the table.

What do you make of Monaco?
The Monegasques started well but have slowed down in the last month. Their defence is leaky but they're still tough to play, with a lot of potential in attack and really good passing from midfield. They can catch you out at any time. You have to be careful of any team having a hard time because hard times always come to an end. On Saturday, they won't have anything to lose.

You'd probably like to repeat the Bordeaux performance…
Yes, and we'll do all we can to achieve that. It was a good match, our reference for the season, in which we defended well as a team. When we had the ball, we never gave it away cheaply and we scored when we had the chance. So there were lots of positives, and we need to reproduce them get a similar result.

Will you be thinking about the Stuttgart game next week?
No. We're concentrating on the league right now. There will be time for the Champions League later.

Cleber Anderson's arrival should allow you to play in the midfield. How do you see the scenario?
My season starts now, as a midfielder. I've been a stopgap for the last month and a half in defence, so I've only been playing in the midfield for 2-3 weeks. It's a bit tough to find my feet again but little by little I'm getting better. It's very different from central defence. There is more competition for a place in the midfield, 5 players for 3 spots, so everyone has to earn their place. But with all the games we have coming up, everyone should get a chance. But everyone has to step up…

How do you see the France team?
As a supporter. As for a future with Les Bleus, we'll see later on. Right now the important thing is my club. First I have to win a spot in the midfield for OL, then we'll see about doing the same thing for my country.