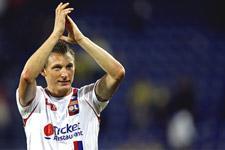 Against Northern Ireland, Kim Källström's Sweden conceded a 1-1 draw at home in Solna.
[IMG41391#L]Sweden missed their opportunity to secure their place in Euro 2008. Lars Lagerbäck's men will have to wait a bit longer. On Wednesday, they conceded a 1-1 draw at home in Solna. Mellberg opened the scoring for the Swedes but then Lafferty equalised 15 before time. Lyonnais Kim Källström was a starter but made way for Andreas Johansson 5 minutes before the end.
Thanks to this point, Northern Ireland managed to conserve a sliver of hope of qualifying for the tournament in Switzerland and Austria next year. The Swedes are still favoured to go through, and only the Northern Irish can stop them; should Sweden lose against Spain and Latvia, and the Northern Irish win against Denmark and Spain, the Swedes would fail to qualify.

[IMG42452#L] Kader Keita didn't play with the Ivory Coast, who lost 3-2 in Austria in a friendly despite a double from Didier Drogba.