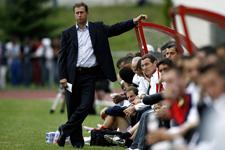 Alain Perrin is very pleased to have long week "to do some good work". The OL manager also discusses Hatem Ben Arfa's call-up to the France team as well as Fred's return to the squad.
What's this week's programme?
It's a rather long week that will give us a chance to get some good work done. When you have matches every 3 days, recovery is more pressured. Now, we can do some weight work and sessions based on tackling and other themes. In short, a rather varied week.

Have you been working on any weaknesses seen in the last few matches?
Sometimes imperfections are a result of collective organisation, and as such are tough to work on without the whole squad being present. All the same, this week gives us a chance to talk amongst ourselves about what's going wrong, to work on some individual improvements while covering the technical and tactical sides of things.

On Wednesday, Raymond Domenech gave the call-up to Hatem Ben Arfa. What is your reaction?
It means another international for OL. We're getting closer to Arsenal. I'm very happy for Hatem – he invested a lot of work into his game at the beginning of the season. This call-up will encourage him to keep up the good work.

Are you surprised?
Yes. It's a huge surprise. I'll have to ask Raymond the exact reasons for his choice. He believes in him. Maybe it's a way of showing that he is in the running for a place in the squad at the Euros, showing that everyone is under pressure in their position. But the call-up doesn't mean he'll be a starter. Hatem knows that. It'll motivate him even more to play well for his club in order to secure a place at the Euros.

He's a little lucky to be playing with the A side. Would you prefer him to play with France's U-21 side?
Yes, because he had some niggling injury problems at the start of the season and as such didn't have much game time. So I would prefer him to be playing an international with the U-21 side in order to find his rhythm. He played really well in Bordeaux and it would be better for him to keep the competitive rhythm up. Hatem is very receptive and open to comments. Since the start of the season, he has really improved in terms of concentration and discipline in his game. This call-up should do him good as he is already on the right track. For every young player there is a season in which they turn into a fully-fledged revelation. I hope this is that year for Hatem.

Has he graduated to another level with this call-up?
No. You go to the next level by performing consistently, match after match, especially in European competition. 10 of those in a row with consistent performances and he will have taken the next step.

A word on Karim Benzema. Do you plan to confine him to the left wing?
When you're at a high-profile club, things are always blown out of proportion. I know what his preference is. I also know where he is best used. Being played on the left doesn't mean he's being confined. On the contrary. Who would want to deprive themselves of his prowess in front of goal? He's our top scorer! His quality is being able to play right across the front line and sometimes even behind the attack. Discovering new sides of his gamer is an awesome thing for him. The important thing is that we play him in his domain, in his register, that of a finisher capable of scoring and assisting in goals. I have absolutely no intention of "confining" him to the left wing but I do have to make choices based on the players available to me. Now we're playing a 4-3-3 but I haven't abandoned the idea of a 4-4-2.

Your idea of the 4-4-2 could suit the return of Fred into the squad.
Not uniquely. There are evolutions, possibilities. Things have to come together. It'll be difficult to do without one or the other.

On paper, they seem complementary. Is this your view?
Karim is the perfect complement to any player, as he isn't stuck in one position – his technical and tactical talents see to that. Fred is more of a centre forward, with awesome technique. Anyway, good players quickly become complementary.

Are you surprised by Karim Benzema's current performances?
He could have scored fewer goals so far and it would have done nothing to detract from what we know of his talent and his qualities nor from the room he has for improvement in order to fully tap into his talent. He's only 20. He needs to work on his explosivity and load resistance.