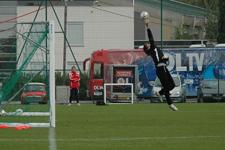 18 players took part this morning's session.

Without the 6 internationals called up to represent their countries, they began with some laps before warming up with some ball work.
After one-on-ones and two-on-twos, the squad divided into three teams to play a half-pitch tournament.
The session finished with some stretching. Juninho practiced his free kicks.
Sandy Paillot finished the session early.
Patrick Müller, who felt some pain in the internal ligament in his right knee, simply did some bike work.