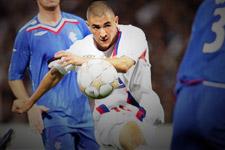 Now that the second international break of the season is upon us, we take a look at OL's Numbers so far this season… Vercoutre has been the most-used player… Alain Perrin has made the maximum changes during matches… Benzema has proven unbelievably efficient in front of goal…
Players used

21 players have been used by Alain Perrin in OL's 13 official matches. Vercoutre has played 1,080 of the possible 1,170 minutes so far. He leads Benzema 1,059, Källström 1,030, Toulalan 990, Grosso 988, Squillaci 920, Bodmer 893, Juninho 880, Govou 880, Réveillère 811, Keita 698, Clerc 612, Baros 471, Ben Arfa 294, Cris 240, Fabio Santos 235, Belhadj 232, Cleber Anderson 192, Müller 180, Coupet 90 and Rémy 21.
Benzema and Keita have played in every match. Toulalan is the only player among those who have had considerable game time not to have been substituted.

Substitutions

Alain Perrin has made 39 changes during games from a possible 39. Kader Keita had been subbed off the most times, 7 in all; Baros, 5 times; Govou and Juninho, 4 times… Belhadj is the OL manager's preferred replacement, having been brought on 6 times, ahead of Ben Arfa and Clerc, both brought on 5 times.

Shots on goal

The Olympiens have taken 195 shots, 61 of which have been on target, for 23 goals, including 21 in the league and 2 in the Trophée des Champions. In the league, Juninho and co have taken 138 shots for their 21 goals, getting their shots on target 45 times. Not a bad conversion rate! Their greatest number of shots for a game came against Rangers, when they tried their luck on 31 occasions… without scoring. Their smallest number of shots in a game came against Barcelona, when they had a meagre 6 occasions…

Benzema 45 shots… 20 on target… 10 goals; Juninho 35 shots including 23 free kicks… 11 on target… 1 goal (1 free kick); Källström 19 shots… 5 on target… 2 goals and Govou 19 shots… 7 on target… 3 goals…

OL's opposition have had 147 shots on goal, getting 56 on target and scoring on 16 occasions. Barcelona had 16 of those shots… Rangers 6. the two extremes.

Scorers

10 different scorers: Benzema, Govou, Källström, Baros, Juninho, Ben Arfa, Bodmer, Anderson, Santos and Cris.

Karim Benzema has scored 10 goals… 10 goals in the league: 7 with the right foot, 2 with the left and his head. Govou 3 goals, 2 with the right foot and with the left; Källström and Baros, 2 goals: 1 with each foot for the Swede… 2 right0footed goals for the Czech.

13 right-footed goals… 7 with the left… 3 headed goals. 4 from outside the area and 19 from inside… 7 after set pieces.

Assists 4 assist for Juninho including 3 from set pieces (Benzema). Benzema and Ben Arfa, 3 assists… Ben Arfa's 3 assists were converted into goals by Karim Benzema. Karim himself has set up Baros, Govou and Ben Arfa.