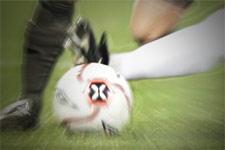 Coming back to its favourite hunting ground to forget Europe for a moment and rebuild morale and confidence! Sure… but in Gironde, it's a peak match waiting for the Lyonnais… a great way to bounce back… if they can pull it off!
Forget
, forget… it's easy to say. Why dwell on
the past
? Only to learn one's lessons and find potential solutions. OL bombed out against the
Scots
, and now it's time to face the
Bordelais
, who just qualified for the next round of the UEFA Cup and are ranked 3rd in L1 thanks mainly to their stunning away form which accounts for an impressive 11 of their 18 points so far. They count among their
Bellion
, Mr.50% (6 of their 12 goals).
Ramé
still has safe gloves and hands like buckets…
Jemmali
,
Jurietti
and
Micoud
are hardened campaigners… Alou Diarra has been seeing a lot of action… youngsters
Obertan
,
Trémoulinas
and
Marange
show a lot of promise… and
Laurent Blanc
, at the helm, hasn't taken his time in making a name for himself as a manager. Bordeaux is creating a buzz…
The
Bordelais
have won their last 2 against the Olympiens including the famous Coupe de la Ligue final. But the
Lyonnais
know that they haven't lost in the league at the Chaban Delmas stadium since season 19998-99; that's 4 wins and 4 draws in some rather heated matches.
So
OL
, newly joint leaders of the league, will travel to the 3rd-placed side that lies just one point behind them on the table. A top-of-the-table clash that will reveal the true virtues of both sides. In looking at the table on the eve of round 10, OL knows they have only played 2 of the top 10 teams so far (Lorient and Le Mans) and that they are yet to play PSG and Marseille, traditional heavyweights. So there are
several strong messages
to send out to French football.
No
, we haven't been wiped out by our European defeats.
Yes
, we're capable of bouncing back straight away.
Yes
, we're still the strongest side in L1, as all the specialists insist.
Just like leading scorer
Benzema
, another Mr.50% (9 of OL's 18 goals) OL evidently has what it takes to get a result in Gironde, and this despite the absence of key players Coupet and Cris. Not to mention the suspended
Toulalan
. After that, it's up to
Alain Perrin
to find the right formula and the right men based on the pros and cons of the season so far. There will most likely be changes after President
Jean-Michel Aulas
advised that players be played in their preferred positions in order to play to their strengths. Also, Fred will make his way back in to the squad after several long months out injured.
In the end, this match comes
just at the right moment
for the 6-time French champions, as long as the result they get is positive, and that do it in style. If not, the headaches will return and stronger remedies will need to be sought! So let's get behind the lads and believe in their legendary capacity to bounce back!